Sony Ericsson Outs Xperia Arc S, and the S Is for Speed
Article Comments 4
Aug 31, 2011, 10:19 AM by Eric M. Zeman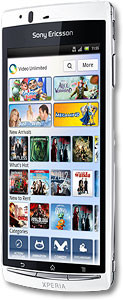 Sony Ericsson today announced the Xperia Arc S, an update to the Xperia Arc that bumps the processor up to 1.4GHz. Sony Ericsson says the Xperia Arc S can open the camera application 25% faster and render web sites 20% faster. In addition to the faster processor, the Xperia Arc S includes an 8-megapixel camera with an Exmor sensor and can capture 2D and 3D panoramas, which can be viewed on 3D HDTVs via the HDMI output. The camera can shoot 720p HD video and has an LED flash, touch-to-focus, and image stabilization. The Xperia Arc S has a 4.2-inch Reality Display with Mobile BRAVIA Engine and runs Android 2.3 Gingerbread. It will ship with Sony's Music Unlimited and Video Unlimited services, which provide access to music and video content. The Arc S will ship in two variants, including a quad-band 800/850/1900/2100MHz UMTS/HSPA version for use on U.S. networks. All variants include Bluetooth, GPS, FM radio, and Wi-Fi. The Xperia Arc S will ship in select markets starting in the fourth quarter.
"the S is for speed"
then i'll take the S2 in galaxy! haha
galaxy S2 is for speed 2X faster? haha
yes, it is! it' dual core compares to single core.
uh, what the hell are you trying to communicate here?
Whether the CPU is single or dual core has very little to do with "speed".

It is all about the amount of caching the CPU can process as well as the FSB (Front Side BUS)speeds the CPU can process per second.

Dual Core processors only help with p...
(continues)
The S is for...
... Snake. Er.. Dragon.... Err whatever.