Motorola Outs the Pro+ with Support for AT&T and T-Mobile
Article Comments 5
Aug 30, 2011, 10:07 AM by Eric M. Zeman
updated Aug 30, 2011, 10:24 AM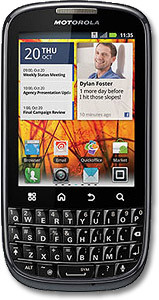 Motorola today announced the Pro+, a new monoblock QWERTY Android smartphone. The Pro+ runs Android 2.3 Gingerbread and is powered by a 1GHz processor. It includes a 3.1-inch 480 x 640 touch display with Gorilla Glass; 5-megapixel camera with flash and video capture; aGPS, Bluetooth Wi-Fi, and an FM radio. The Motorola Pro+ will ship in several 3G variants, including a tri-band 850/1900/2100MHz HSDPA at 14.4Mbps that could be used on AT&T's network, and a 850/1700/2100MHz HSDPA at 14.4Mbps that could be used on T-Mobile's network. It includes 4GB of on-board storage and accepts microSD cards up to 32GB. While the Motorola Pro+ supports AT&T and T-Mobile's 3G networks, the press release says the device will initially be sold in Asia and Europe. It is possible AT&T and T-Mobile will sell this device at a later date.
Advertisements article continues below...
NO.
You give me the gorramn news on the Samsung Galaxy S II right this instant.

SAMSUNG.

GIVE ME YOUR SECRETS.

☹️
I wish RIM would do this
They need to increase the screen size on their phones, especially now that they are going to QNX and touch screens; this phone size is arguably a bit awkward but the increased screen size is worth it imo.
Hopefully with QNX they redesign their phones 100%. From scratch.