Samsung Announces Galaxy S II LTE
Article Comments 18
Aug 28, 2011, 4:08 PM by Eric M. Zeman @zeman_e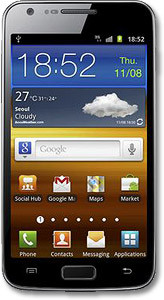 Samsung has unveiled a new version of the Galaxy S II including support for Long Term Evolution 4G. The Galaxy S II LTE runs on Android 2.3 Gingerbread with a 1.5GHz dual-core processor and support for 3D graphics and gaming. It has a 4.5-inch Super AMOLED Plus display, an 8-megapixel camera and HD video capture. The device will ship with Samsung's various hubs, include the Social, Game, and Music hubs (Reader hub to be available after launch), which provide users with access to content, media, and other services. Samsung notes that the Galaxy S II will support the mobile hotspot feature and will allow up to eight other Wi-Fi devices to connect to the mobile network. Samsung didn't specify what bands the Galaxy S II LTE will support. AT&T and Verizon Wireless are deploying LTE on different slices of 700MHz spectrum in the U.S. European network operators are deploying LTE in a number of bands, including 800MHz, 1800MHz, and other frequencies. Samsung is expected to make a more formal announcement on September 1 in Berlin at the IFA event.
Its's Freaking Beautiful
All it needs to be PERFECT is HTC Sense UI .... And be LESS Samsung-ey.. The last Samsung that I had that I actually LIKED was the Blade SPH A900 EVDO (the metal shell NOT the plastic ONE! SPH A900M)
lol, so this would be a great samsung phone if it wasnt a samsung?

sweet....i totes agree.
THIS PHON WOLD B GOOD IF IT WASNT ON ATT OR VEIRZON
IT WULD BE BETTER IF THEY GOT IT 4 CRICKET
kvlt said:
IT WOULD BE BETTER IF THEY MADE A VARIANT FOR CRICKET.
That's highly unlikely to happen.
LTE or HSPA (OLD)?
Can't find any announcements regarding LTE...

Anyone find something on it?
-sigh-
Why does technology need to cost so much and upgrade so often?
Well..They are slowly bringing out new things in Technology, down grading. It can only get better. They can do so much more with phones still till this day.
If that's how you feel, then maybe you need to take a break from technology web sites. If you're satisfied with your current phone, why blow money on "the next big thing". Accept that you're always going to be a little behind on features, but take p...
(continues)
Samsung I9100 Galaxy S II in white
I read a news yesterday that Samsung Galaxy S II review is painted with snow white color, more brighter and whiter than the iPhone 4 "white". Is this a real news I am just wondring if this is true I definately will go for it. cellular reviews
OMG yes its totally more white than the white iPhone. It will be the whitest device in the world!!!
Wow, I really like the specs of this phone, and the white color just really makes it better. Hoping for ATT to carry it. XD