Review: BlackBerry Bold 9930
Form Basics Extras Video Wrap-Up Comments 5
Is It Your Type? Body The Three S's
Aug 23, 2011, 6:10 PM by Eric M. Zeman
Phone Scoop takes RIM's newest BlackBerry for Verizon Wireless for a spin in this full review. Find out if the BlackBerry Bold 9930 has what it takes to compete with today's leading smartphones.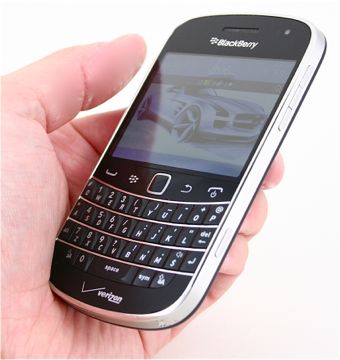 For the fan of the physical QWERTY keyboard, it has always been tough to beat a BlackBerry. The Bold boldly takes a step in a new direction, however, by adding a touch screen. Toss RIM's new BlackBerry 7 system software into the mix and you have an interesting hybrid device that looks to be a jack of all trades. Does it master any of them?
you gotta be kidding me....
800 dolars for FIXED FOCUS!!!!??? WAY TO GO RIM! god!!!!!
Well, I don't disagree... if Apple can do it and keep the iPhone thinner... but...

To play devil's advocate, I'm sure RIM would say it's necessary to keep it as thin as it is, and also that this is a business-oriented phone, so the camera isn't nec...
(continues)
wellthey had to spend their money some way
My 2 cents
Let me start by sayin I'm a huge blackberry fan. Crackberry gets At least $5 from me per month. I went from the 9650 to the 9930 and right back to the 9650 the following day. With no wifi hotspot and enough bugs and poor battery life to make your head spin the 9930 is not yet ready for the serious business user. And let's face it. Isn't that who RIM is targeting? If I decide I want the next toy from VZW i'll go with the iPhone 5. If not I'll hang on to my 9650 which is bullet proof and save he games for my iPod touch.
If the Bold 9000 had been made like this, I might have stayed with BB. The old 9000 style and size was the best design in my opinion. Not to big but, big enough for someone with bugs hands like mine. 😁