Review: Motorola Triumph
Form Basics Extras Wrap-Up Comments 4
Is It Your Type? Body The Three S's
Aug 16, 2011, 2:16 PM by Eric M. Zeman
Motorola's Triumph for Virgin Mobile brings a big screen and other big features to the contract-averse. Just because this phone is for pre-paid customers doesn't mean it takes any short cuts. Here's what Phone Scoop has to say in this full review.
Advertisements article continues below...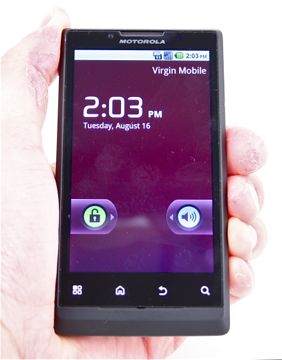 Motorola delivers a (mostly) solid smartphone to Sprint's Virgin Mobile pre-paid brand in the Triumph. It manages to strike a good balance between capabilities and cost. For $299 you can own it outright and only have to fork over $35 per month in service fees. What's not to like?
Motorola Triumph review??
hey read your review then saw other reviews on the same phone. what gives? i almost got the phone till i saw the other reviews. the problems are they in the early models or all of them?
The triumph is excellent 😡
Owned one for about a week from the day it came out, then returned it. All in all, I'd say my experience with the device here in central Florida was exactly the same.

Great hardware for a no contract phone. Great deal on rate plans. Horrible recept...
(continues)
Can't wait to get my hands on that...
Google Triumph!