Fusion Garage Debuts Grid 4 Android Smartphone
Article Comments 3
Aug 15, 2011, 12:29 PM by Eric M. Zeman @zeman_e
updated Aug 15, 2011, 12:48 PM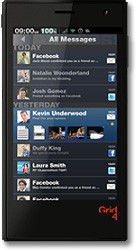 Fusion Garage today announced a new smartphone called the Grid 4. The Grid 4 is a slab-style device that runs GridOS (based on the Android kernel). According to Fusion Garage, GridOS can run Android applications, but offers its own user interface that relies entirely on touch input (there are no buttons). For example, users sign their signature on the screen in order to unlock the device, and its wheel-based UI lets users "navigate naturally, easier and without restriction." The Grid 4 has a 4-inch display with 800 x 480 pixels, dual-core Qualcomm SnapDragon processor, 5-megapixel camera with flash and VGA user-facing camera, 16GB of built-in storage and support for microSD cards. It includes quad-band GSM/EDGE and tri-band HSDPA radios, as well as Wi-Fi, GPS, and Bluetooth 2.1+EDR. Other spes include an accelerometer, ambient light sensor, magnetometer, and proximity sensor. The Grid 4 will ship unlocked for $399. Carrier partnerships have not been announced. Fusion Garage also introduced a 10-inch tablet today. It was the company behind the JooJoo tablet.
AD article continues below...
i just cant get excited with a 4 inches!
once i tried samsung infuse with huge 4.5 inches, i cant go back to anything less than 4.5 inches!

bigger screen = less focus for the eyes = more comfortable for the eyes

bigger screen = bigger onscreen keyboard = easier to type
I have a 4.3 screen on my Droid Charge, it's like a mini-tablet.