Review: Motorola Titanium
Form Basics Extras Wrap-Up Comments 7
Is It Your Type? Body The Three S's
Aug 4, 2011, 2:53 PM by Eric M. Zeman @phonescooper
Motorola's latest iDEN device for Sprint Nextel brings Android, push-to-talk, and a physical QWERTY keyboard to the table. Together, they make for a fine Android phone, though it's not without a few hiccups.
AD article continues below...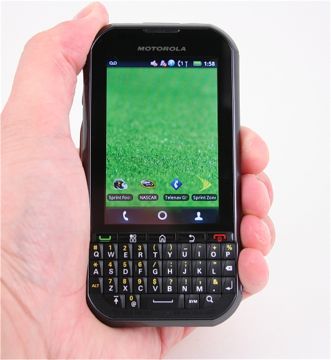 For the Nextel subscriber, Android smartphones are few and far between. Even more rare is that elusive Android smartphone with a QWERTY keyboard. Enter the Motorola Titanium. The Titanium takes the ground work laid by last year's Motorola i1 and adds a portrait QWERTY keyboard and a few other improvements. Are they enough to convince you to ditch that crusty old iDEN flip you've been carrying for umpteen years?
Motorola fan?
Eric, maybe it's just me, but it seems as if you have some bias towards Motorola in your reviews.

Not sure why anyone would be buying an iden phone anyway, the network won't exist in a few months. And Sprints new Q-chat 4.0 PTT over cdma will be up and running in October, when the Motorola Pax releases. Thought it might be something to mention, to potential buyers.
Ha! If you only knew... if we allowed ourselves to be biased, we'd actually have really good reason to bash all Motorola products. But we strive to be objective and unbiased. We take that responsibility seriously.

We've had plenty of dings of Motor...
(continues)
Believe it or not, I rec'd an email from Motorola PR a few months ago asking why I'd been so tough on Motorola phones in recent reviews. they actually thought I was "down on the brand."

I praise phones when they deserve it, and call them out for t...
(continues)