Review: Motorola Photon 4G
Article Comments 47
Aug 1, 2011, 9:40 PM by Eric M. Zeman
Motorola fields its first WiMax handset for Sprint in the Photon 4G, a new super slab that takes every feature to the nth degree. Motorola sends this Photon torpedo into the heart of the smartphone competition in hopes of blowing them all up. Does Motorola succeed?
Advertisements article continues below...
Form
Is It Your Type?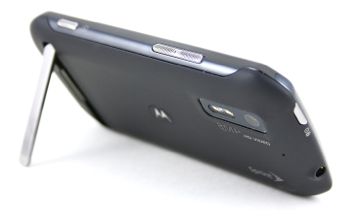 Motorola debuts its first WiMax handset for Sprint in the Photon 4G, a Gingerbread-packing monoblock of sheer smartphone power. If HTC's WiMax handsets aren't turning you on, the Photon 4G should get you all hot and bothered. Here's why.
Body
The Photon 4G is distinctive. In the sea of me-too monoblock Android smartphones, the Photon 4G manages to look at least a little bit different from the pack thanks to its angled corners. Sure, it's another all-black affair, but Motorola deserves some credit for making this phone stand apart from even its own Android designs.
It's a heavy, and huge handset, though. As with all devices that include 4.3-inch displays, the Photon 4G is ginormous. Thankfully, Motorola angled the side edges steeply, so that the back surface is smaller than the front. This means the Photon 4G sits comfortably in your palm. The edges and back are covered in a soft-touch paint job, which lends the Photon 4G a bit of grip. The materials, fit and finish of the Photon 4G are top-notch. It's the highest-quality handset I've seen from Motorola in some time.
The front face of the Photon 4G is huge, and almost all donated to the touch display. The usual four Android controls are present along the very bottom edge as capacitive buttons. I found them to be responsive.
Motorola built the microUSB port and microHDMI port into the left side of the Photon 4G. They are positioned such that the Photon 4G works well with a series of accessories, such as a Motorola media dock. The volume toggle and dedicated camera button are both found on the right side of the Photon 4G. These buttons are metallic, and have a ribbed texture to them. They are easy to find, feel good to use, and have good travel and feedback.
The power/lock key is on the top edge of the Photon 4G. I wish this button had the same ribbed texture that the others did, but it was still easy to find. Travel and feedback were a bit mushy, though. The 3.5mm headset jack is also on top.
Sprint sure does love kickstands on its phones. The Photon 4G is yet another to include a chromed-out kickstand so that it can be placed on a table or desk and used as a mini video display. The kickstand is close to the bottom edge of the Photon 4G, and requires a bit of digging with your thumbnail. The kickstand and its hinge are made of metal and feel strong.
The battery cover - which is very thin - must be peeled off if you want to swap microSD cards. It is not necessary to remove the battery to get at the microSD card slot.
Though it is a bit big and heavy, everything about the Photon 4G has a solid, quality feel to it.
The Three S's
Screen
The Photon 4G packs a 4.3-inch LCD touch screen with qHD (540 x 960 pixels) resolution. It looks fantastic. Colors are rich, on-screen elements such as icons and graphics are smooth, and it looks razor sharp. Motorola did an excellent job with this display. As with most touch phones, using it outside under strong sunlight becomes a bit problematic, but not impossible. It may not be quite as dazzling as Samsung's Super AMOLED Plus displays, but it's the next best thing.
Signal
The Photon 4G is by far the best 3G phone I've ever tested on Sprint's network. In my home, most Sprint devices rate 2 bars of coverage. The Photon 4G had 5 when I was sitting in my office. I took the Photon 4G all over northern New Jersey, and it was a strong performer everywhere it went. The phone never lost Sprint's network entirely, and managed to stay connected even when deep within the recesses of some large buildings in the middle of a city. Even when it showed just one bar, phone calls still went through, and data sessions were acceptable.
As for the Photon 4G's WiMax radio, it performed exceptionally well. I tested it in several cities across New Jersey that have access to Sprint's WiMax network, and found the Photon 4G connected easily to the WiMax network and offered speedy web service via 4G. The Photon 4G was also very good at hand-offs between Sprint's CDMA 3G and WiMax 4G networks, with but the briefest pause in browsing. In all, I'd rate this the best WiMax device (and probably best 3G device, too) in Sprint's arsenal.
Sound
Call quality with the Photon 4G was outstanding. Not only were calls free of noise, static, or other problems, but the earpiece is capable of skull-rattling volumes. The clarity and volume of calls make the Photon 4G a great voice phone, and mean it can be used almost anywhere without fear of missing part of the conversation. The speakerphone was also quite loud, and calls were just as clear when pushed through the loud speaker. Ringers and alert tones could be set to absurdly high levels. With the Photon 4G sitting in my office upstairs, I could hear it ringing when I stepped out my front door to get the mail. The vibrate alert was a little weak, though.
Battery
Sprint's WiMax phones to date have been poor performers when it comes to battery life. With the Photon 4G, I found that mixed use of 3G and 4G is possible without draining the battery in mere hours. In fact, I got the Photon 4G to last an entire day, with about 9 hours in 3G-only territory, and the remaining 15 hours spent in 4G territory. Bottom line: You're not going to have a dead battery at 3PM or 4PM unless you use the mobile hotspot feature. Most days, you'll make it from 7AM to Midnight with no problem.
Basics
Menus
The Photon 4G runs Android 2.3 Gingerbread with a toned-down version of Motorola's Motoblur skin sitting on top, plus Sprint's Sprint iD theme packs. The behavior of the home screens and menus mostly conforms to the stock Android experience.
There are seven home screen panels that users can adjust at will. Only three of them have content loaded out of the box. There are four permanent icons (phone, browser, Sprint iD, main menu) in a dock at the bottom of the screen, but those icons can be changed up if you wish. There is the usual flotilla of Android and Motorola widgets available to make the home screen more dynamic.
The main app menu can be sorted into groups (alphabetically, frequently used, recently used), as well as sorted by what folder they are stuffed in.
The Photon 4G has Sprint iD on board, but thankfully it is dormant. My review unit had no preinstalled Sprint iD packs, meaning I had to actively seek them out from Sprint's web portal if I wanted to use them. Trust me, the Photon 4G is just fine without Sprint iD active. The menus are plenty easy to customize, and I find Sprint iD downloads/installs too many junk apps to be useful. However, if you want, you can still configure your own iDs, as well as peruse the growing library of other iDs.
As for performance, the Photon 4G is incredibly fast. It has a dual-core 1Ghz Tegra 2 processor inside. This equates to lightning fast screen transitions, smooth application performance, and no stuttering as the Photon 4G moves from screen to screen and app to app.
Calls/Contacts
Calls
The phone application itself is a stock Android calling tool. In-call features are unaltered from stock Android, and are simple to use.
Contacts
The contact application is the stock Android app, which is kind of disappointing. I mean, it's all-powerful and socially connected and stuff, but there aren't any cool contacts/favorites widgets, such as the one on the Droid 3 (for Verizon). It's the same old, boring contact application. Sure, it integrates with Twitter and Facebook, and lets you store a bazillion contacts and their too-many email addresses, but there's no fun involved.
Messaging
The Photon 4G comes with all the stock Android messaging and communications applications. It offers the standard Android email, Gmail, SMS/MMS, and GTalk applications. If you're looking for AIM or other IM support, get thee to the Android Market.
The Photon 4G also offers the master inbox from Motorola's Motoblur software, which catches messages from SMS, Twitter DMs, and Facebook messages all in one place. This tool is a decent way to manage direct communications for these social networking services rather than directly in those apps.
The Photon 4G has the same catch-all social networking application that's on the Droid 3 and other Motorola handsets. This app helps manage status updates for Twitter, Facebook, and MySpace. It includes a home screen widget, from which you can scan through your Twitter, Facebook, and RSS feeds, as well as post your thoughts and musings.
The stock Facebook and Twitter apps are not included, so if you want the full functionality that they offer, you'll have to snag them from the Android Market.
Oddly, the Photon 4G doesn't include any sort of video chatting software, even though it has a user-facing camera. If that's what you're looking for, I'd recommend you download Skype, which is free.
Extras
Media
Music
There are a number of different ways to consume music on the Photon 4G. First, there is the heavily modified main music player app that plays local content, as well as serves as a media streaming interface (think DLNA stuff), and an FM radio controller. This new music player offers a wide range of ways to interact with your music, and allows for control over playback options such as playlists, sound settings, and so on. It has a neat visual tool for sorting through your library by scattering all the album art to your music as if they were CDs strewn across the floor. It's cool, though you can revert to the normal ways to sort through your music if you wish (artist, album, song, etc.).
The Photon 4G ships with Sprint Music Plus on board, which is Sprint's music store. From Sprint Music Plus, it is possible to browse through and purchase songs, albums, ringtones, and ringback tones. I was able to found quite a lot of obscure music in this store, so chances are the Pop stuff you listen to will be available, too.
The Photon 4G also has Sprint Radio, which is a streaming music service that delivers music via the 3G/4G network. Compared to Slacker or Pandora, though, it stinks. You're better off using one of the third-party offerings.
Video
The Photon 4G has a basic video player application to handle side-loaded video content as well as content captured on the Photon 4G itself. It is capable software, though not nearly as exciting as the music app.
The Photon 4G also ships with Sprint TV & Movies, which is Sprint's TV and movie streaming service. Sprint has been loading this software on its devices for ever. It's not bad as far as streaming content goes. What's truly annoying, however, is that half the content is available for free, and the other half requires users to subscribe for a monthly fee. It's absolutely hit-or-miss as to which is which, and you only find out you have to pay to watch something when you hit the pay wall after selecting it. This is poorly done.
The Photon 4G also has the standard YouTube application.
Camera
Camera
The Photon 4G's camera app opens quickly whether you tap the software button on the screen or press the dedicated camera button on the side of the phone. The camera controls are nicely arranged and easy to figure out. On the left side of the screen, the Photon 4G's camera has access to the photo gallery via a thumbnail in the corner. Location/tagging controls are accessible at all times.
The shutter button is placed in another corner of the viewfinder. This feels like an odd place for it (it's generally in the middle of one side of the display).
If you want access to some additional quick controls, tap the screen to bring them up. A little drawer slides out that provides access to five different control panels: Scenes, Effects; Flash, Front Camera, Video Camera. There's plenty to choose from when it comes to adjusting the camera's behavior. The effects are limited to colors, but the scenes range from portrait to sport, and from close-ups to sunsets.
The Photon 4G has the craziest version of touch-to-focus I've ever seen. On most phones with this feature, you press the area of the display where you want the camera to focus. Easy. With the Photon 4G, you have to press and hold the focus box and drag it to the spot you want to be in focus. This takes way too much time, and I only discovered it by accident.
The Photon 4G's camera focuses quickly and fires off shots relatively fast. It's not the fastest ever, but it's no laggard.
Gallery
The Photon 4G uses the same gallery application as seen on the recently reviewed Motorola Droid 3.
The first thing it does is segregate photo libraries. The default view is not your own photos, but those of your Facebook friends. The images appear as cards floating in a carousel and you can scroll through them sideways. It's a breeze to add a comment, or open the photo in the Facebook app for full interactivity.
There are buttons below this carousel that open the camera roll, your image library, your online accounts (defaults to Picasa and Facebook), and DLNA devices. It's an interesting way to view images, and it places an emphasis on the social nature of sharing pictures with your friends and family. You can upload/share with tons of photo/social services, and even add comments to your own photos. The gallery can be set to support automatic uploads, which means photos will be sent to the one social network of your choice in the background with no further action required by the user.
As for the photos taken by the Photon 4G itself, images are laid things out in a grid of thumbnails and supports slide shows. The editing features are robust. The Photon 4G can adjust effects, colors, and brightness, as well as crop, rotate, flip (horizontal or vertical), and even resize the image.
Photos/Video
Photos
The Photon 4G has an 8-megapixel camera with dual-LED flash. I was hoping for much better results. The Photon 4G does a great job at getting color and white balance correct. Exposure was also good most of the time, though it had trouble in difficult lighting situations. The biggest two problems are focus and grain. The Photon 4G rarely produced a razor-sharp image, and the added grain makes nearly every photo look fuzzy. This was disappointing. They're worth sharing, sure, but not necessarily blowing up and hanging in your foyer.
Video
Conversely, the 720p HD video I shot with the Photon 4G was utterly fantastic. Focus was incredibly sharp, and the video popped with clarity, color, and life. I was actually stunned at how good the video was (especially after examining the photos). Is it worth sharing? You betcha, feel free to send it to YouTube or the video-sharing service of your choice.
Browse/Customize
Browser
The Photon 4G comes with the capable Android browser, which will run via Wi-Fi, 3G, or 4G. The browser does a commendable job with whichever network connection is available. It's very fast with a good 3G connection, screamingly fast when WiMax is available, and nearly reaches mobile-browsing nirvana via Wi-Fi. What's most important is that the solid signal performance of the Photon 4G — under both 3G and 4G connections — meant it almost always performed well when it came to surfing the mobile web.
Customize
You know the drill here. Android is about the most customizable mobile platform in history. With seven home screen panels, Sprint iD, and adjustable menus, the Photon 4G is as flexible as a handset can be when it comes to personalization.
Extras
Bluetooth
The Photon 4G supports the usual batch of Bluetooth profiles. I was able to pair it with mono and stereo headsets, as well as PCs and other phones. Call quality via mono headsets was very, very good — probably the best quality I've heard from Bluetooth in six months. Music streamed without hiccups to my stereo Bluetooth speakers. Passing contact data and files between the Photon 4G and phones/PCs was not an issue.
Clock
As with most Android devices, the Photon 4G has a white, digital clock that's visible on the home screen when the power/lock button is pressed. The Photon 4G's is a bit small, in my opinion, making it harder to read at a quick glance.
GPS
The Photon 4G includes both Google Maps and TeleNav GPS. Both are capable applications at providing voice-guided driving directions. The latest version of Google Maps supports 3D city views (in select cities) and map caching for offline use. The TeleNav GPS performance is a little bit better and more accurate in my experience, and Sprint offers it to customers for free.
Sprint Wallet
The Photon 4G ships with the brand new Sprint Wallet software on board. This software/service was developed by Sprint, Google, and Visa to enable NFC mobile payments. Sadly, the service is still in beta in a limited number of markets. Phone Scoop was unable to test this feature, but wanted to point out that it is available. Also, the Photon 4G doesn't have the necessary NFC components.
WebTop
Similar to the Motorola Atrix 4G, the Photon 4G includes Motorola's WebTop software. With the use of an optional HD dock, the Photon 4G can be attached to an HD monitor, keyboard, and mouse and used as a laptop replacement. The software that controls on this is identical to that of the Atrix 4G, but the Photon 4G won't have its own laptop dock as the Atrix did. When in WebTop mode, the Photon 4G runs the Firefox browser and offers access to all the files and applications on the phone — but on a much larger screen. Bottom line: if you choose to travel with a travel keyboard and HDMI cable, you might be able to hook the Photon 4G up to the HDTV in your hotel room and use that as your computer instead of toting a full laptop around.
Wrap-Up
After spending more than four days with the Photon 4G, I am confident in recommending it as Sprint's top smartphone. It hits a home run in almost every department. The hardware is excellent, the wireless performance top-notch, the voice quality fantastic, and even the battery life is good.
If those basics aren't enough to convince you, the messaging options are nearly unlimited, the media playback tools are outstanding, and the system performance is raging fast. The evolution of Motorola's Blur user interface is now complete. It went from an annoying performance-killer on early devices to a tasteful and helpful addition to the stock Android operating system.
The only weakness that I can complain about is the so-so quality of the still images I captured.
If you like kick-butt smartphones, the Photon 4G is one of the butt-kickingest there is. It is easily the best handset available from Sprint, if not some of Sprint's competitors, too. I'd recommend it to any Sprint customer looking for a killer upgrade.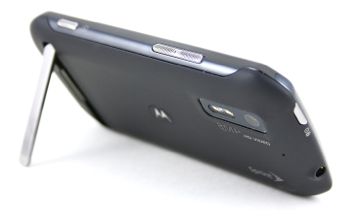 The flaws I saw
These are the flaws that I found in the first day of using the phone:

1. The USB/charging port & HDMI port are located on the left side of the phone, which make it impossible to stand the phone on the kickstand if any of the cables are plugged in. Also chances are that you will need to plug either of the two while you are using the kickstand. I cannot watch movies on my Netflix (during which I almost always need my charger) on the kickstand.

2. The battery backup I experienced was not amazing. Rather after charging the phone overnight, I had to put it back on for charging at around 1:30 pm. All I did was a little messaging and a couple of small calls.

I still am in the 30 days period so I am going to take my time and decide if it i...
(continues)
Also, I can notice a slight lag coming up when I unlock the screen and when I move between screens.
I would be glad if someone could help me compare this monzter with the Evo 3D, which has a similar processor and slightly better look with the Sense ...
(continues)
Another wannabe EVO
Is anybody else out there getting tired of all these wannabe EVO 4G phones out there... this phone is excactly the same thing... common android lets do something different.....
It's not exactly like the EVO. It has world roaming and a better display than the EVO.

Did you read the review? In our tests, it performs much better than the EVO on fundamentals like signal strength and battery life.

This phone has almost every...
(continues)
theking7830 said:
Is anybody else out there getting tired of all these wannabe EVO 4G phones out there... this phone is excactly the same thing... common android lets do something different.....
Okay, kids, I know i...
(continues)
like a disgruntled Evo owner who is self conscious that his phone is no longer top dog with Sprint.

Even if that's not the case, it's hard to understand the thought of "copying" the Evo...so it copies the Evo because it has a large screen, no keybo...
(continues)
Would have been the perfect phone for me...
...if only Motorola would have had the foresight to include CDMA800 ESMR support in it! Oh well... 😢
rawvega said:
...if only Motorola would have had the foresight to include CDMA800 ESMR support in it! Oh well... 😢
By the time that's implemented, this phone will be obsolete and you'd be due for an upgrade any...
(continues)