Samsung Conquer 4G to Pack WiMax and Android 2.3
Article Comments 12
Jun 29, 2011, 6:22 PM by Eric M. Zeman
updated Jun 29, 2011, 6:27 PM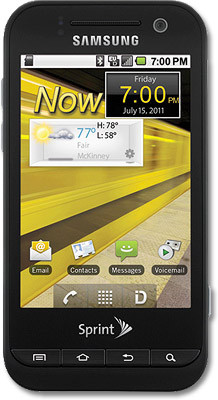 Samsung today published details about the D600 Conquer 4G, a new WiMax Android smartphone for Sprint. Based on the specs, the Conquer 4G appears to be a mid-range smartphone. It has a 3.5-inch HVGA display, 1GHz processor, and offers a 3.2 megapixel main camera with flash, and 1.3 megapixel user-facing camera. Based on the images published by Samsung, the Conquer 4G will include Sprint iD, which offers users bundled themes and software for their Android devices. The FCC approved this handset in April with CDMA in the ESMR 800MHz band, 850MHz band, and the 1900MHz band, making it a tri-band CDMA device. The ESMR support means the Conquer 4G will eventually be able to use voice services on Sprint's 800MHz spectrum when it transitions iDEN off that spectrum. The Conquer 4G also includes Wi-Fi. Neither Samsung nor Sprint have announced availability or pricing details for this phone.
Advertisements article continues below...
Transform 2.0?
It looks like the next generation Transform to me, hopefully it won't be the same build quality as the Transform, cause honestly Samsung usually makes a good quality phone, but the Transform was piece of junk. Also Sprint ID sucks, almost every Sprint customer I see just disables the ID after just randomly picking one out at activation.
I wonder
I wonder when it will be able to utilize the 800? Where I live it is roaming for Sprint but I would have iDen coverage. So I am kind of anxious to know when this rolls out.
I would figure on some time during in Q4 just to be safe.
One-Carrier Phone
Last time I checked, EMSR was not Compatable with other Carriers' CDMA networks, so if that phone supports EMSR 800, 850, and 1900, or whatever it says, would that not technically make that a Sprint-Only phone, since they are the only carrier to support that Radio frequency technology?
Supporting more bands makes a phone compatible with more networks, not less. Since no one else uses CDMA in that band, that simply makes that mode irrelevant to whether it's compatible with other networks. This phone is no more or less compatible with...
(continues)
Whoops
Samsung took down the website. Someone must have jumped the gun.