AT&T Updates Its Facebook Status to Intro HTC Status
Article Comments 12
Jun 29, 2011, 11:42 AM by Eric M. Zeman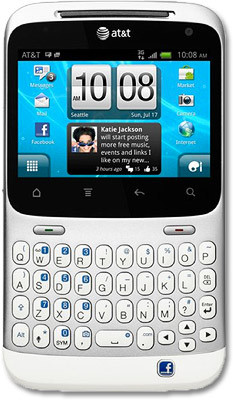 AT&T today announced via its Facebook page that it will offer a re-branded version of the HTC ChaCha, to be called the Status, later this summer for an undisclosed price. The single most interesting feature of the Status is that it has a "Facebook button" and customized software that allows users to more easily share what they are doing with their Facebook accounts. The Status is a bar-style QWERTY phone that has a 2.6-inch touch screen; 3G, GPS, Wi-Fi, and Bluetooth 3.0+HS with A2DP radios; 5 megapixel camera with autofocus, flash, and VGA user-facing camera; gyroscope, compass, proximity and light sensor; 800MHz processor, 3.5mm headset jack, and support for microSD cards. The Status runs the latest version of HTC's Sense user interface.
Data plan
Will this phone require a data plan. Hopefully not, like the Freestyle....
Wouldn't make a whole lot of sense to have a facebook phone without internet, lol
Post-paid + Android OS = yes, definitely
I like it, but...
i would like to see a bigger screen to make better use of the touch screen
I'd like to see it in the trash heap of odd ball phones.