Sony Ericsson's Xperia Active Jumps to Life
Article Comments 3
Jun 22, 2011, 7:40 AM by Eric M. Zeman
updated Jun 22, 2011, 8:44 AM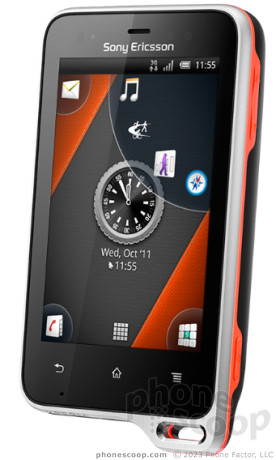 Sony Ericsson today announced a new Android-based smartphone, the Xperia Active. This handset, which runs Gingerbread, is dust and water resistant, and the 3.3-inch capacitive Reality Display will work even when it or the user's finger is wet. The Active is targeted at those who lead active lifestyles, and includes exercise tracking software and a heart rate monitor. The Active also comes with a number of accessories in the box, including an extra battery cover, an arm strap, a wrist strap, and removable hooks for a hands-free headset. Other features of the Active include a 1GHz processor, Bluetooth, aGPS, Wi-Fi, barometer, and compass. It has a 5-megapixel camera with autofocus, face detection/recognition, flash, and 720p HD video capture. As for cellular connectivity, it supports quad-band GSM/EDGE and comes in two UMTS/HSPA configurations, including one for Asian markets. It will be available in the third quarter in select markets.
This will prolly sell.
I know many people who will grab this phone in a heartbeat. Depending on the price, it should sell pretty well. It has great features, gingebread, and the accessories that come with it. Sounds like a win, if they keep the software current unlike the Xperia X10 North America version which has had to go through tons of hoops just to get 2.1.
sony will botch the launch, updates will be nonexistent, and people will forget about this phone shortly after launch.