Review: HTC Sensation 4G
Form Basics Extras Wrap-Up Comments 2
Is It Your Type? Body The Three S's
Jun 13, 2011, 12:46 PM by Eric M. Zeman
updated Jun 13, 2011, 1:07 PM
HTC's sensational Sensation 4G for T-Mobile comes out of the gate firing on all cylinders. Can anything slow this capable and speedy handset down? Find out in Phone Scoop's full review.
Advertisements article continues below...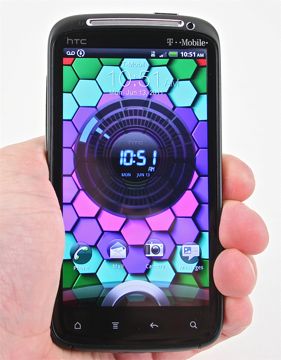 HTC forges another masterful smartphone for T-Mobile. The Sensation 4G matches a beautiful display with a fast data radio and Google's Android platform. Only those who like the best of the best need apply.
Sensation vs g2x
I currently have the g2x and although i like the phone the tiny issues of rebooting and shutting off have been annoying to deal with at times. I love HTC but not sure if i am in love with HTC sense. Just thinking about getting rid of my G2x for sensation and wondering if it is worth it?? What would you do?
Can anything slow it down?
How about EDGE data service?? T-mobile doesn't even have 3G everywhere. I don't know what they are thinking talking about 4G.