Review: Pantech Crossover
Form Basics Extras Video Wrap-Up Comments 2
Is It Your Type? Body The Three S's
Jun 8, 2011, 2:55 PM by Eric M. Zeman
Pantech's first Android smartphone for AT&T scores well for a newb. It combines the right mixture of features, design, and price to be a tempting target at AT&T retail shops.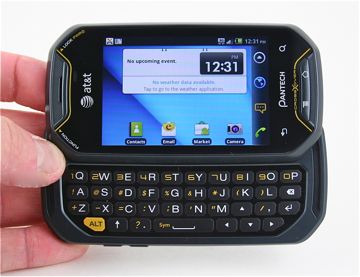 Pantech swings hard with its first Android smartphone, the Crossover. Pantech manages to impart a little bit of personality into this sideways slider, letting it stand out from the increasingly crowded collection of Android devices. The $69.99 price point certainly doesn't hurt its chances, either. See why the Crossover is worth considering.
QWERTY Android
Currently holding onto my Motorola Backflip until someone realizes people actually like QWERTY keyboard on their smartphones.

Granted, the crossover is an upgrade to something like my phone. But, I want something powerful like an Atrix or an Infuse with a fully tactile QWERTY.

Blackberry did a pretty good job with the Torch. But, I want a QWERTY that is made for viewing the internet letterbox style.

I'll give you industrial designers a hint, make it just like the LG Quantum, but with a screen the size of the Infuse or Inspire.
Eh, to each his/her/shis own.

I agree, though. I think there needs to be more android devices with a physical QWERTY keyboard.

If you can save some extra cash I reccomend the MotoFlipside. Android 2.1 with qwerty keyboard. Not a bad device.
...
(continues)