Review: LG Revolution
Form Basics Extras Wrap-Up Comments 4
Is It Your Type? Body The Three S's
May 27, 2011, 11:08 AM by Eric M. Zeman
Phone Scoop takes a look at Verizon's latest LTE handset, the LG Revolution. This whopper of an Android smartphone offers a massive screen, fast data speeds, and a lot of other tastefully-managed features.
Advertisements article continues below...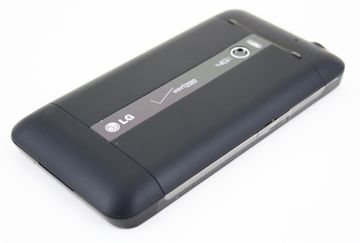 LG's first 4G LTE smartphone for Verizon Wireless is the Revolution. While the only thing revolutionary about the handset is its size, the Revolution does have a lot to offer with its 4.3-inch display, speedy processor, powerful camera, and 4G radio.
No Mention of Netflix?
I can't believe this isn't bigger news. I tried it out yesterday and it worked really well, even on 3G. Plugged it into my TV and it played back well enough. The resolution wasn't as good as my BluRay player, but coming from a phone...nice.
I mentioned it in the Media section.
I suppose because they weren't the first to offer Netflix preinstalled as expected. I think you're right though, they should mention it's key features and capabilities that set them apart.
Samsung Droid Charge vs. HTC Thunderbolt vs. LG Revolution
Which of the three phones would you recommend? Should I wait for a dual core phone or what?