U.S. Cellular Lands Samsung Chrono
Article Comments 7
May 27, 2011, 9:14 AM by Eric M. Zeman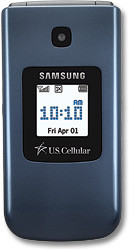 Samsung and U.S. Cellular today announced the Chrono, a new entry-level flip phone that includes Bluetooth, speakerphone, VGA camera, dual displays, GPS, access to basic messaging with predictive text, and web browsing features. It is available from U.S. Cellular's web site for a penny when purchased with an agreement or $19.99 for pre-paid.
Who on earth would get roped into a 2YR contract for this garbage?
I mean seriously. It costs $20 prepaid! Why would somebody lock themselves or their family into a 2 year contract with US Cellular to save $20 on a phone? Carriers should seriously consider giving new customer's accounts service credits when they take such a low-end phone that comes with a pricey contract.
I hear what you are saying...but USCC says this phone is 159.99 full retail price. So, I guess the 139.99 discount is for getting a prepaid account....But whatever...terrible looking phone