Nokia Launches Gold-Plated Oro Handset
Article Comments 15
May 25, 2011, 7:12 AM by Eric M. Zeman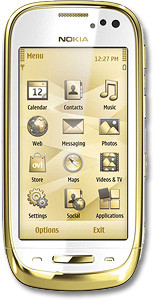 Nokia today announced a new luxury handset called the Oro. The Oro is a bar-style device based on the latest version of Symbian with the Anna update. It features scratch-resistant, 18-carat gold plating, Scottish leather, and uses a real sapphire gem as the home key. The Oro has a penta-band radio inside for worldwide 3G support, a 3.5-inch AMOLED display, and an 8 megapixel camera that shoots 720p HD video. The primary markets for this device are Russia, the Middle East, and select Asian markets. Nokia expects it will be available in the third quarter, and it will cost about $1,126 (800 euro).
This reminds me of...
That Russian guy on the Direct TV commercials. With the mini giraffe? He'd totally have one of these. 😁
I think the owner of the New Jersey Nets may own one too.