HTC Trophy Announced as Verizon's First WP7 Device
Article Comments 7
May 19, 2011, 9:07 AM by Eric M. Zeman
updated May 19, 2011, 9:18 AM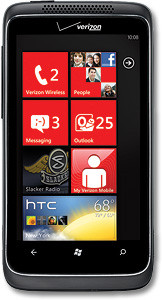 Verizon Wireless today announced the HTC Trophy, its first Windows Phone 7 device. The Trophy will ship with the "NoDo" WP7 update installed, which is the latest version of the operating system available. It includes cut-and-paste and better Marketplace search. Features of the Trophy include a 1GHz Snapdragon processor; 3.8-inch WVGA touch display; 5 megapixel camera with autofocus, LED flash, and 720p HD video capture; 16GB of on-board storage; plus Wi-Fi, Bluetooth, and GPS. The Trophy is a world phone, which means it will work both on Verizon's network in the U.S. and on GSM/EDGE/HSPA networks overseas. The Trophy will be available online starting May 26 and in stores June 2 for $149.99 with a new voice/data contract. Customers who purchase the Trophy before July 15 will also receive a free XBox 360 video game.
Have you ever used a WP7 device?
I'm a huge Smart-Phone user. From the first NeoPoint phones (circa 1994) to the latest Android, Blackberry or iPhone - I've used them all.

One of my customers is in Bellevue (yes it's Microsoft) so I though it would be clever to buy an HD7 (t-mobile) just to make a point. I wasn't really expecting to like the phone, it was just for the politics.

I was instantly hooked... ...reluctantly. It appeared they threw out all of the old notions of a smart-phone and said - "What should it do?".

Even in it's infant stages it blew away my Verizon iPhone, HTC EVO and Blackberry storm. Just simple things like the way that the fonts are laid out to the home screen tiles. I'm not easily swayed but in this case I couldn't help it.

Origin...
(continues)
Didn't Verizon say Windows 7 was a waste of time?
At least that's what they said when MS and Nokia announced their partnership.
Maybe they came to light with this one. There are a lot of Xbox Live users out there and Sony has their phone so maybe this can be that phone that Xbox fans want. Plus its at a cheap price so it may sell. Me personally I wouldn't buy it.
THIS ARTICLE NEEDS TO BE CORRECTED!
This phone is not available May 19 which is today. So how to Phonescoop.com post this info when it easily could have been verified. I don't see any info at work stating the release of the HTC Trophy. Just training info.
Well looks like they correct the article. that was fast.