Verizon Officially Announces Motorola Droid X2
Article Comments 9
May 18, 2011, 7:36 AM by Eric M. Zeman
updated May 18, 2011, 7:43 AM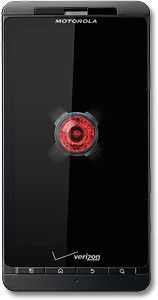 Verizon Wireless today announced the Motorola Droid X2, a sequel to last year's hit phone that steps its 4.3-inch display up to qHD (540 x 960) resolution and adds a dual-core 1GHz processor engine under the hood. The Droid X2 sticks with 3G cellular technology but includes support for Verizon's Wi-Fi hotspot service for up to five devices. It offers the Swype QWERTY keyboard, GPS, Bluetooth, and an 8 megapixel camera with autofocus, flash, and 720p HD video capture. It will ship with Android 2.2, but Verizon said it will be updated to Android 2.3. It is available online starting May 19 for $199.99 with contract. It will be available in retail stores starting May 26.
An Improvement?
Not much in my opinion.

They made a marginal improvement to the pixel density, and put a dual core processsor in the X2. Unless there are more specifics to be announced, it doesn't seem like that much of an improvement from the original Droid X.

If the picture depicted is the actual Droid X2, they didn't appear to change anything about that either.
I just recieved a mock version of the X2 in store today. The only physical difference that i could tell is the lack of a physical camera button.
My inventory just arrived. I can't unlock it with the standard "touch 4 corners" method. Started with top left, top right, bottom right, bottom left with no luck.

EXACT same form factor which will be nice because the existing cases, media stand a...
(continues)