Review: Samsung Infuse 4G
Form Basics Extras Wrap-up Comments 4
Is It Your Type? Body The Three S's
May 18, 2011, 7:28 AM by Eric M. Zeman
updated May 26, 2011, 2:16 PM
Samsung's Infuse 4G comes with one of the largest displays available on a modern smartphone. With 4.5 inches to play with, the Infuse is mighty tempting. Read Phone Scoop's full review to get the nitty gritty details.
Advertisements article continues below...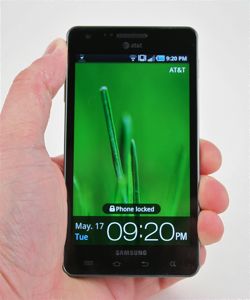 The Samsung Infuse 4G is the latest flagship Android device available from AT&T. With its massive 4.5-inch display, it pushes the upper boundaries that separate smartphones from tablets. With is huge screen, thin profile, speedy performance, and powerful media capabilities, there's little to dislike, although we managed to find a few missteps anyway.
I Actually Laughed Out Loud at Work
"AT&T still managed to stick a few apps on the Infuse 4G that can't be removed. (I'm looking at you, Yellow Pages.)"


I enjoyed this review. 🤣
Infuse microUSB port does double as an HDMI port...
The article makes it sound like it doesn't.

The phone comes with an adapter that turns the MicroUSB charging port into a standard HDMI port.

Also, on the specs page, it says the phone is only capable of video recording in 720P.

It is capable of 1080P.
Hmm, my review unit only came with a charger in the box, nothing else. I tried a microUSB/HDMI cable with it directly, and it didn't work.