Review: HP Veer 4G
Article Comments 3
May 13, 2011, 2:49 PM by Eric M. Zeman
HP's Veer 4G for AT&T attempts to set the bar for how small and feature-rich a smartphone can be. It sets bars, all right, but are they the right ones?
Form
Is It Your Type?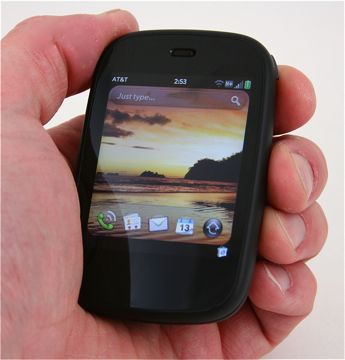 The HP Veer 4G is a new webOS device for AT&T that attempts to redefine just how small phones can be. If tiny is your priority, then perhaps the Veer is for you. The real question is, should power users steer clear, or should they veer in the Veer's direction?
Body
Wow, the Veer is small. It is smaller than most flip phones and quick messaging devices, let alone the current crop of smartphones. Hell, it's smaller than a MIFi, and it's just barely bigger than the key fob for my car. The size and smooth, rounded shape make it perhaps the most comfortable phone to carry around. It uses the same "river stone" design as its Pre-decessors, which makes it very comfortable to hold. The Veer is the most pocket-friendly phone ever conceived.
The front face is dressed in plain black garb. There are no fancy bezel designs, just inky blackness all around. The screen consumes most of the Veer's face, though there is a small strip of plastic below the display that is also capacitive and used for some of the webOS gestures. A white light illuminates there when touched.
The volume toggle is on the left side of the phone. It's easy to find and use, and has excellent travel and feedback. There is a switch on top that allows you to silence calls. It is positioned on the lower half of the slider, and is very difficult to use when the Veer is in the open position. The power/lock button is perched in the upper right corner. It sticks out just enough and has perfect travel and feedback.
Looking for a microUSB port, 3.5mm headset jack, microSD card slot? You won't find them. Instead, you'll find a proprietary, magnetized strip on the right side of the phone. Think the mag-safe design on Apple's laptops. The special charging cable adheres to the side of the Veer magnetically for charging and connecting to PCs. What if you want to listen to music? Well, the Veer comes with a magnetic attachment with a 3.5mm headset jack.
Why did HP take this route, you ask? In order to make the Veer as small as it is. In my opinion, the trade-off isn't worth it. There's a reason that the entire wireless industry is settling on microUSB as the standard for charging and data transfer. What happens if you forget to bring the special Veer charging cable (as I did this week)? You're S.O.L. Normal cables won't work. Given that nearly every other smartphone now uses microUSB, this is flat-out unacceptable. Additionally, the magnets aren't strong enough and the charging cable comes disconnected easily if the phone is picked up and moved. So the connector is neat, but definitely not practical.
The slider mechanism works and looks just like that of the Pre. In fact, the Veer very much looks like a miniature Pre. The slider feels smooth and spring-assisted action takes over once you give it a firm nudge.
If you thought the keyboards on the Pre, Pre 2, and Pixi were small, the Veer bests them all in terms of pushing the ridiculous. I don't have exceptionally large thumbs, but I found typing on the Veer nearly impossible. The buttons have the same tacky rubberized covering found on the Pres and Pixi, and offer decent travel and feedback, but the keys are just packed too close together. At least the Veer offers things such as dedicated "@" and period and comma buttons. The Veer's keyboard might be fine for the smaller fingers of younger users, but it is just too small for me.
It's actually quite depressing that, two and a half years after introducing the Pre, HP has yet to knock out a great piece of hardware.
The Three S's
Screen
The Veer's teensy display measures just 2.6-inches across the diagonal and has 320 x 400 pixels. For its size, the resolution is good enough. Everything on the display looks clean and sharp, and seeing individual pixels is difficult. The brightness, as with previous HP handsets, is severely lacking, though. There's a constant gray pall that also seems to besmirch HP's displays. Whites never seem fully white. It works well enough indoors, but outside it is completely useless.
Signal
The Veer — officially called the Veer 4G by AT&T — connected to AT&T's HSPA+ network pretty well. In signal tests, it generally showed a bar less than other AT&T handsets in any given area, but this didn't impact performance. I didn't miss any calls with the Veer, not did it drop any. Data speeds were on par with other AT&T handsets, though they were never speedy.
Sound
Phone calls were far from spectacular. The earpiece generated plenty of volume, though at full blast it becomes heavily distorted. There was a constant hiss in the background during calls, and quite often those with whom I spoke sounded scratchy. Ringtones and alert tones were reasonably loud, though I'd have preferred if they were a bit louder. The vibrate alert is definitely not strong enough. The speakerphone is plenty loud, though it offers the same crummy call quality that the earpiece does.
Battery
Being such a small phone, the Veer has a small battery at 910 mAh. During my testing, the Veer easily managed to get through a full day's use. HP has worked some power management mojo into webOS, which seems to be less power hungry than when it first launched. However, the Veer won't quite make it through two days on a single charge, so you're going to have to charge pretty much every night.
Basics
Menus
The Veer runs webOS 2.1.2. While HP has added features to webOS since its 2009 debut, the overall appearance and feel of the operating system hasn't changed.
The home screen has the same ribbon of apps at the bottom, and HP's updated searching tool positioned at the top. To get at the apps, hit the arrow button in the ribbon. There are three main menu screens. The apps in the main menu are scattered about with absolutely no rhyme or reason. Why are controls to the Veer's ringers on the third page, but AT&T's Yellow Pages app is on the first page? The good news is that the main menu can be completely customized per the user's preferences.
The gesture area below the screen is confusing to use at first. First-time webOS users might wonder what the heck is going on when they press it and it kills off apps. Thankfully, there's a gesture area tutorial on the Veer that fills you in on its functionality. (Of course, the presence of a tutorial tells me that HP knows the gesture area isn't intuitive.)
The Veer's search functionality is pretty cool. From the home page, just start typing anything and it will search the phone, your email, your twitter account, Google, etc., for whatever it is you're looking for. For example, I performed a search for "Rich Brome" and the Veer turned up 20 emails in my inbox, several twitter messages, and his contact card. The search function can be fine-tuned in the preferences, such as adding services/locations to perform searches. It also lets users control keyboard shortcuts for launching actions, such starting a new SMS or new email.
Applications behave as "cards." They can be left open and running in the background. From the main screen, swipe back and forth to get at them, and swipe them off the top of the screen to close them. I was able to keep at least two dozen apps running at a time without making the Veer sluggish.
Speaking of speed, the Veer is absolutely the fastest webOS device I've used. It has an 800MHz processor, and I suspect HP has done a lot to optimize its code. Applications opened quickly, screen transitions happened instantly, and the device never had a problem performing tasks.
webOS remains to be one of the prettiest mobile operating systems out there, but it does take some time to get used to.
Calls/Contacts
Calls
From the home screen, tap the green phone icon and you'll be taken to the software dial-pad. The on-screen software keys are easy to reach, though the Veer's small display means the buttons are a bit small.
If you want to search through your contacts, there is a little (and I mean little) button that lets you open up your contact database. Using the search bar, you can type out a contact name and it begins to sort through your contacts immediately. What I really like is that the search function shows you the contact name and all their associated numbers. So if they have a mobile, office and home number, you can easily pick out which one you want to call.
Contacts
HP's Synergy contact database management system continues to work very well. You can easily import contacts from whatever email account you happen to use: Gmail, Facebook, Exchange and so on. Synergy then merges all the data from each of these individual accounts and forges a master contact that holds all the information about a single person.
If you have a friend stored in your Gmail contacts, but also in your Facebook, that contact will appear only once in your contact database, and it will include the information from both the Gmail and Facebook accounts in their profile, including a photo.
If you don't want to take the time to scroll through your thousands of friends, just start typing their name from the home screen; you don't even have to open the contacts app. I like that.
Messaging
On the messaging front, the Veer covers all the bases. Email, SMS, MMS, and IM are all present and accounted for. SMS, MMS and IM are bundled into one, tidy package, but email is handled separately.
First, email. As with most modern phones, all you need to do is enter the username and password of whatever email account(s) you want on the phone. The Veer takes care of the rest. It asks you if you want to import the contacts from each particular account, and you can decline if you wish.
Email can be configured to arrive instantly, or every 5, 10, 15, 30, 60 minutes or every 6 hours. You can also choose how much email is stored on the Veer at any one time (1 day, 3 days, 7 days, 2 weeks, 1 month, or all of it).
The Veer will display HTML email. When you view each email, you can scroll to the previous or next email by pressing some dedicated arrows. Using the options button, you can mark items as read/unread, flag them, move them to other folders, as well as access the cut/copy/paste functions. The Veer plays nice with Microsoft Exchange, as ActiveSync is on board.
There are two basic tabs in the messaging app: one for "Conversations" and another for "Buddies". The Conversations side is all the SMS/MMS and the Buddies is for IM. SMS and MMS are threaded nicely together. It is easy to read and sort through your conversations.
You can have multiple IM clients (AIM, Google Talk, Yahoo) running at a time in the Buddies panel, and the Veer's ability to manage them all simultaneously is impressive. The IM client lets you see which of your buddies are online, and you can easily open the contacts app and find your friends' IM screen names and start up a new chat.
Social Networking
HP's developers have been hard at work integrating Facebook into the webOS platform. Most of the integration comes with the Synergy contact management application. It will import all your Facebook contact info even if you don't have the Facebook application installed.
Speaking of which, it isn't, by default; you need to find it in the App Catalog. The same goes for Twitter and most other social networking applications/services.
The Facebook and Twitter apps I found in the app catalog were decent, but not nearly as fully featured as what's available to the iOS, Android, and Windows Phone 7 platforms. They work, to be sure, but aren't are refined as what's available on competing phones.
Extras
Media
Music
The webOS music app lets you sort through your tunes via the usual methods: album, artist, song, genre, etc. In the main page, you can see how many songs you have, and a shortcut will let you shuffle and start playing your entire library immediately.
The player interface itself is pretty cool. It will show the album art or the list of tracks, whichever you choose. You can loop the songs, shuffle them, or just sit back and enjoy. Rather than having to hit a small little button, a light press on the screen will pause playback. Press again to resume. You can also swipe in either direction to the previous or next track.
The music player also offers its own search function, which lets you search for YouTube or Amazon MP3 information about the current artist playing. The Amazon MP3 download app is pre-installed in case you want to purchase music directly from your handset.
What really kills the Veer as an entertainment device is the lack of 3.5mm headset jack. Worse, the mag-safe accessory that adds a 3.5mm headset jack doesn't attach firmly enough, and can easily be pulled off with a slight tug of the headphone cable. This is truly annoying.
Video
The Veer has a video application as well as a YouTube application. The video app is meant to play back videos shot with the Veer and upload them to destinations such as Facebook or YouTube. It wouldn't see/play back movie files that I sideloaded.
The YouTube application isn't bad. The home page shows the top trending videos on the site as well as search features. Watching video on a 2.6-inch screen is hardly satisfying, though.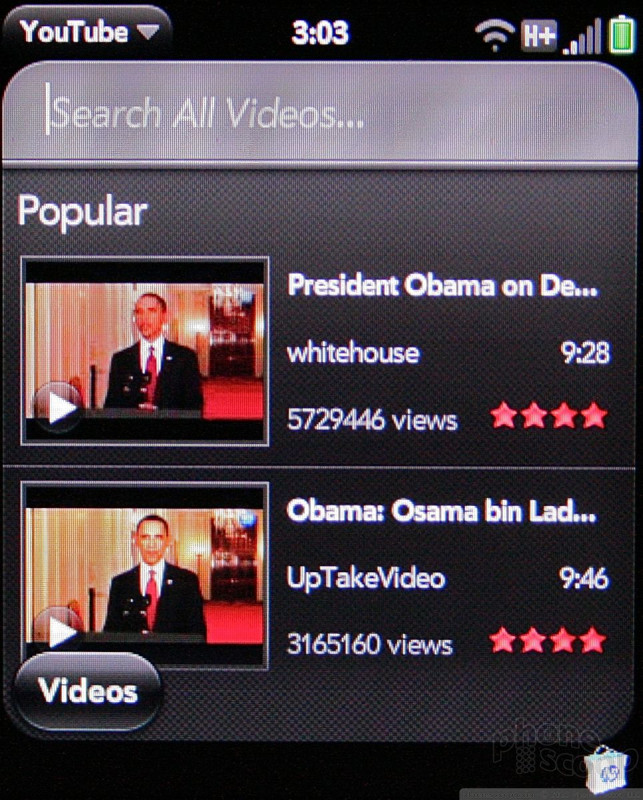 Camera
Camera
The camera software on the Veer is as disappointingly bare-bones as on previous webOS devices. The camera app is one of the slower apps to load. Once it does, all you get is a shutter button and a button to switch to the camcorder. There doesn't appear to be auto-focus, as shots are simply fired off as fast as you can press the shutter button. Perhaps the speed with which the Veer can capture images is its best feature. You can't do anything else, such as set up white balance, exposure, scenes, etc. Advanced photogs will be disappointed.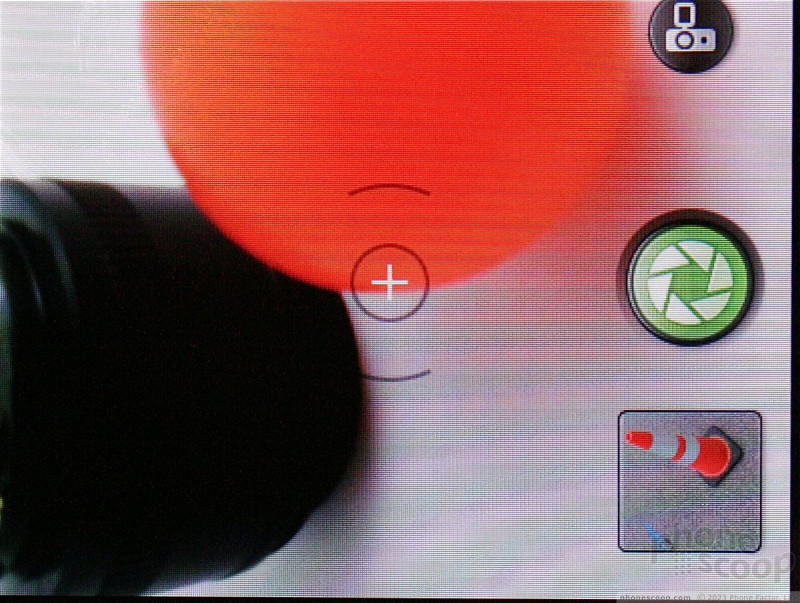 Gallery
If you thought the camera lacks features, wait until you check out the Gallery. You can barely do anything with it. You can view pictures (in list or grid view), delete them, set them as contact/wallpaper, or send them off via MMS or email. That's it. There are no editing features (not even basic ones).
Combined, the camera and gallery applications are about the weakest and most featureless of any smartphone platform. You need to do better than that, HP.
Photos/Video
Photos
Despite the sheer lack of any useful features, the Veer's 5-megapixel camera does a pretty good job at capturing images. Focus was almost always crisp and sharp. The camera also managed to get white balance, color, and exposure right most of the time. There was a near-complete lack of grain and/or digital artifacts, which makes for clear images.
Of course, performance in well-lit environments is far superior to performance in low-light environments. Since the Veer doesn't have a flash, there's not much you can do but take the picture and hope for the best. Low-light shots have more grain, and softer focus, but color and white balance are correct.
Video
The Veer shoots video in 640 x 480 resolution. There are no options to step the resolution down. Truthfully, the quality is less than what I'd expect from a 2-megapixel feature phone. Focus? Pshaw, who needs that. Video shot with the Veer is full of digital artifacts, and everything looks soft and fuzzy. It managed exposure well enough, but the absolute lack of detail and clarity makes the Veer's camcorder useful for only the most basic video needs.
(video no longer available)
Browse/Customize
Browser
The Veer's HTML web browser is simple to use. When you first open it, you get a grid-like panel of your bookmarks. About six fit on the screen at any one time. Basically, each bookmark is a snapshot of each web site that you've marked. Press to open that page. There's also a URL address bar at the top.
The Veer runs on AT&T's HSPA+ network, which, for the most part, makes for quick browsing. It was definitely slower than other AT&T devices I had on hand, but it never crashed out completely.
Tapping will zoom in/out to different sections of any site you visit, as will pinching. The browser's preferences allow you to customize some settings and see things such as your browsing history. You can also add web sites to the home screen as cards, making them instant bookmarks from the Veer's desktop. You can also share web site links via email.
Customize
The Veer lets you change up most of the normal things you expect to be able to customize on any handset. Wallpapers, ringtones, caller IDs, alert tones, the menus, etc., can all be customized as you wish.
The Veer has a lot of keyboard-based shortcuts, and some of them can be user-defined to quickly initiate certain actions. Pressing and holding the "S" key, for example, automatically searches the phone for items that start with "S" in any given application. So, from the home screen, if you press "S", the Veer sorts out all the applications and menu items that start with "S". Same goes for any other letter in the alphabet. This is a stock shortcut. User-defined shortcuts generally require the use of the alt+X to initiate.
Extras
Apps
HP's App Catalog offers several thousand applications, but it absolutely pales in comparison to what's available for iOS, Android, Windows Phone 7, and BlackBerry devices. The App Catalog software itself has been updated somewhat, but it's still clunky to sort through. Updating applications is a pain, and when you actually find something worth downloading, the store doesn't provide users with enough feedback. Is it downloading? Did it finish, or crash? What just happened?
Bluetooth
The Veer has Bluetooth on board, and supports mono and stereo headsets. Pairing and set-up wasn't a problem. Sound quality of both calls and music playback was horrendous. Truly awful. You can't do useful things such as send files via Bluetooth between the Veer and your PC.
Clock
The Veer is a fine watch replacement. From a sleeping state, hit the power/lock key and the Veer displays a huge digital clock. This can't be changed. There is a clock application in the system menu, but it really is just an alarm clock/stopwatch, and has not relevance to the lock screen clock.
GPS
The Veer has AT&T's Navigator software and Google Maps on board. If you want turn-by-turn, voice-guided directions, stick with AT&T's $10-per-month service. Google Maps on the Veer will provide a route from point A to point B, but can't guide you there automatically.
Wrap-Up
The Veer is a hard device to categorize. To be sure, its small size will appeal to many. The size comes with trade-offs, however, such as the scrunched keyboard, and lack of standard connectors. If you have small fingers and don't care much about what plugs into the Veer, then perhaps these can be overlooked.
The menu and basic feature set of webOS are decent, but have barely advanced in the two years since the platform debuted. Email, SMS, MMS, IM and social networking function fine, but quality of voice calls leaves something to be desired. If you're more of a texter, then maybe call quality isn't vital to you.
The Veer's media powers are limited. Sure, it plays back music, and takes decent pictures, but connectivity options (such as sending content to a TV) are sadly missing.
There's no arguing that the Veer offers a lot in a small package, and the $99 price point is certainly attractive. With the data plan costing the same as any other smartphone on AT&T's network, though, I'd carefully consider what else AT&T offers for $99.
In the larger scheme of things, HP needs to veer in another direction if it wants to sell its hardware.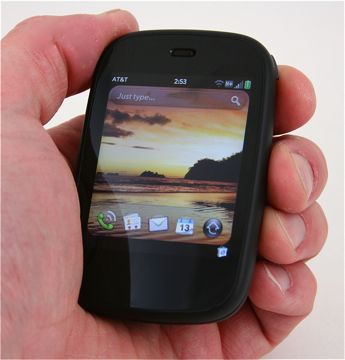 $99?
Lets see what AT&T offers for $99 ... HTC Inspire, Samsung Captivate... What about $50, Windows Phone 7 (Focus, Quantum, Surround) and BlackBerry Torch. Good luck with that, HP.

I was told I can drive to a conference about 2 hours away from where I live and get this phone for free ... I decided not to.

Seriously, it's a cute idea of a phone for the Smaller-is-better crowd (aka 13 year old girls) ... but it's not worth the extra 25 bucks minimum 2GB data. To put it a different way, I would have trouble selling this as a quick messaging or prepaid phone for $99. 😎
To clarify, yes, I know it's a smartphone. A smartphone that looks like a mini QMD and runs on WebOS (I'd prefer a QMD)
*$15 for minimum 200 MB data plan. Just sayin'.