Motorola Kicks Out Three New Phones for Boost
Article Comments 4
May 13, 2011, 8:49 AM by Eric M. Zeman
updated May 13, 2011, 9:38 AM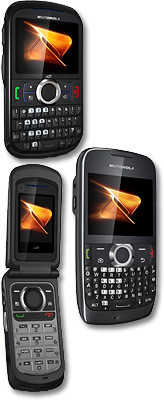 Boost Mobile and Motorola today announced the addition of three handsets to Boost's roster of devices.
Clutch + i475: This sequel to the Clutch is a bar-style QWERTY phone for Boost's iDEN network. It supports Boost's PTT services and boasts Bluetooth 2.0, GPS, 2.5mm headset jack, microUSB, and a VGA camera. It can run Java applications. It is available starting today for $99.99 at select Boost stores.
Theory: This bar-style QWERTY device runs on Boost's (Sprint's) CDMA network. It has threaded messaging, Bluetooth, 2.4-inch display, and a 1.3 megapixel camera. Other features include Java/BREW support, microUSB, 2.5mm headset jack, and iTap's predictive typing software. It will be available starting June 7 for $79.99.
i412: This flip phone runs on Boost's iDEN network and supports PTT services. It also has GPS, Bluetooth 2.0, 2.5mm headset jack, microUSB, and a VGA camera. It will be available June 13 for $69.99.
BOOST RULES!
I'VE HAD BOOST MOBILE FOR MORE THAN 6 MONTHS NOW AND I HAVE JUST TAKEN ADVANTAGE OF THE MONTHLY SHRINKAGE. I ONLY PAY $15/MONTH NOW FOR UNL TALK+TXT+WEB. YAY! 😁
Outdated Material
Vga camera cheesy flip phones.... Fail.
Prepaid space? You do realize that YOU aren't the only market for cell phones.