Motorola Delivers Two Android Phones to Sprint
Article Comments 19
May 5, 2011, 8:18 AM by Eric M. Zeman
updated May 5, 2011, 9:21 AM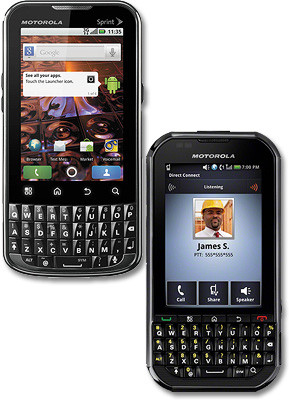 Sprint today announced two new devices that will be added to its lineup in the coming weeks.
Motorola XPRT: The XPRT is a Sprint-branded version of the Verizon Droid Pro, but with a larger standard battery. It is a candybar style smartphone with a touch screen and QWERTY keyboard. It has a 5 megapixel camera with autofocus and flash; a 3.1-inch touch display; and a 1GHz processor. It is also a world phone and can roam on GSM networks in other countries. It will be available June 5 for $129.99 with contract.
Titanium: This follow-up device to the Motorola i1 is a rugged smartphone that runs on Sprint Nextel's iDEN network. It has a 3.1-inch display, full QWERTY keyboard, 5 megapixel camera with flash and video capture, and rates mil-spec 810G for toughness. The Titanium runs Android 2.1 Eclair, and has Wi-Fi, GPS, and stereo Bluetooth. It is compatible with Sprint Nextel's push-to-talk and DirectConnect services. Pricing and availability weren't announced.
$10 Data Add-On Waived
That's cool! So you can sign up and get an earth friendly phone and save some green. Now that's a brilliant way to market new phones.
As far as the waiver, it's probably to console the iden user for the extreme pain they will have to endure with data speed.
Why?
That's all I have to say.
Clearly, NO ONE who reads this site has any idea of what enterprise customers demand.
That's funny I was just thinking the same thing about your birth.
Agreed.... anything Moto does(n't)
Finally Moto Droid Love!
However, I was expecting a Sprint version of the Moto Droid 2 Global. C'mon Sprint, what's going on?
Fail Phonescoop
Today is May 5th.... the phone isn't available till June 5th. I do believe a correction is in order lol