Sony Ericsson Launches 2004 Portfolio
Article Comments 14
Mar 9, 2004, 8:40 AM by (staff)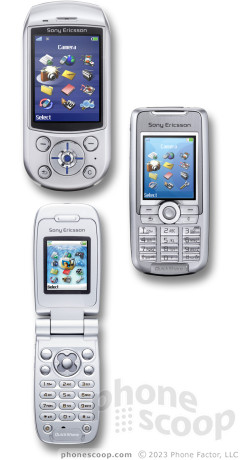 Sony Ericsson today launched five new GSM phones, including two new flagship models and three models specifically for the Americas:
S700: Swivel-style tri-band model with 1.3 megapixel camera and QVGA screen supporting 262,000 colors. Also features Memory Stick Duo slot, Bluetooth, and MP3 player. Available Q4 2004.
K700: Bar-style tri-band model featuring VGA camera with flash, video recording, 32MB of memory, hi-res TFT display, MP3 player, and FM radio. Available Q2 2004.
Z500: Clamshell tri-band (850/1800/1900) model with EDGE (class 10), dual color displays, VGA camera with video recording, Push-To-Talk (PoC), and user-changeable covers. Available in the Americas in Q3 2004.
T637: Bar-style tri-band (850/1800/1900) model based on the T630, adding Push-To-Talk (PoC). Features include TFT display, camera, and Bluetooth. Available for the Americas in "Liquid Black" in Q2 2004.
T237: Entry-level, dual-band bar-style model with 4,096-color display, voice dialing, and 32-chord polyphonic ringtones. Available in "Blade Grey" for the Americas in Q2 2004.
whatever
I'm still waiting for their 2003 line of phones to show up in the US. I've been waiting for the T630 or Z600 or Z200 for many months. I finally got the T610 which is outdated, but only because Motorola couldn't deliver on the V600.

I'll believe Q2 or whatever when I see it.
I dont think any of that is SE's fault. It was the carriers choose not to adopt them. IMO Cingular and ATTWS didnt adopt because non of those 3 have 850 GSM band, and I think they are starting to make 850 an madatory feature on phones. and since USA's...
(continues)
Yeah - I so agree with your sentiments. I figured I would give the T610 a pass too in anticipation of all the other phones that supposedly were going to be out Late 2003 or early 2004 - Just ordered by T610 early this week.

Tired of playing the wa...
(continues)
Well, if you really wanted the Z600 or whatever, you can just buy a never-locked version. Just get a sim card. Works fine. Anyohw, pass on the 2003 line--not worth it. The Z600 it way too bulky. Tho it really is a nice phone to hold in your hand....
(continues)
The T630 Z600 and Z200 were only released in Europe and never in the US( to a carrier). That is why you have been waiting. The only carrier that would pick those products up in the US would be T-Mobile anyway. The lack of the 850 band. You could ha...
(continues)
k700=T650?
Is this the T650 that everyone has been talking about? Looks like it to me.
Yes. It was never called the "T650" by anyone at Sony Ericsson - that was just a random guess made by certain... other web sites. 😉
T637 + K700!!!
😁 And I was all excited for the T637 finally coming to America. I guess I i'll be getting the K700 instead. Sony makes the sweetest phones! Come Cingular don't let me down!!! GET ME THESE PHONES NOW!!
K700 is smokin hot. Best lookin mobile in my opinion and smart too. Though i also like the S700 as you can have 1.3MP pictures with that phone. Wow this is really great. Now i have to wait though till next quarter to get my hands on one of these g...
(continues)
k700=wow
I really like what i have seen of this phone. And there is 3DJava! Saw a demo of a tennis game and it looked awesome and i hate tennis. Go to sonyericsson's website and it has a whole flash presentation of this phone.