Review: HTC Droid Incredible 2
Article Comments 52
Apr 28, 2011, 8:01 AM by Eric M. Zeman
HTC kicks out a sequel to its 2010 super smash, the Incredible. Does a spec bump and larger screen lead to smartphone nirvana? Phone Scoop finds out in this full review of the Droid Incredible 2.
Advertisements article continues below...
Form
Is It Your Type?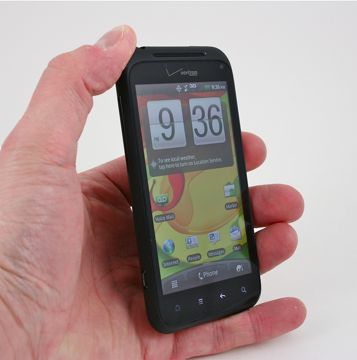 HTC refreshes the Droid Incredible for Verizon Wireless and inventively calls it the Droid Incredible 2. Sporting different dimensions, a larger screen, a better processor, and a slightly retooled shape, does the Incredible 2 offer anything that Verizon's current line-up of LTE-equipped devices don't?
Body
This update to the Incredible takes away some of the personality that made the original so likable (more on that in a moment.)
The Incredible 2 is thicker, wider, longer, and heavier. In return for the larger design, the Incredible 2 rewards users with a 4-inch display (up from 3.7). It still has the odd shrink-wrapped design with goofy contours running across the back surface over the battery.
It is large, but lightweight. It is soft, yet solid. The battery cover has a soft-touch finish, and it feels really nice in the hand. I like that its edges are all rounded in shape, rather than angular. I find it to be just the right weight. It's not so heavy as to be a brick in your hands, but not so insubstantial as to make you think it was cheaply made.
The display is huge, but not so awkward as the Thunderbolt's frisbee dimensions. There are four capacitive buttons along the bottom of the screen. The Incredible 2 loses the optical trackpad that was on the original, which is part of what helped HTC increase the screen size. It isn't missed.
The volume toggle is on the left side, fitted snugly towards the top corner. It presents just enough of a profile so that your fingers can find it. I didn't care for the action, however, which I thought was mushy. Below it is the microUSB port.
There are no buttons or controls on the bottom and right side of the device. That's fine with me, though I suppose a physical camera key on the right side would be nice. Along the top, HTC has included a 3.5mm headset jack for stereo headphones and a power/lock key. This key is about perfect. It's just large enough to find it easily. Travel and feedback were spot on.
Disappointingly, HTC nixed the red interior surface under the battery cover. The red interior was great. In fact, the Incredible 2 has lost all the red coloring that was on the original. While only a few patches of the original were red, they gave it just enough personality to stand out. The black slab stylings of the Incredible 2 are ho-hum at this point. Once the battery cover is removed, users can access the microSD card in a slot located next to the battery. The SIM card (for international roaming) is under battery.
The Three S's
Screen
The Incredible has a 4-inch display that packs in 480 x 800 pixels. It looks great. Colors are rich and text, icons and graphics are smooth. Finding rough, pixelated edges anywhere is a challenge. Indoors, it looks fantastic, and outside it was surprisingly readable. It isn't stunning, but it is usable, and that's more than we can say for most displays when out catching some rays.
Signal
Signal was sorta iffy with the Incredible 2. Sitting on my desk, the Incredible 2 captured two bars compared to the Droid Charge's four bars. The Incredible 2 stayed connected firmly to Verizon's network, though it did drop down to Verizon's 1X network several times. It didn't drop any calls, nor did I miss any. Some data sessions gave me serious hang time, though, and stalled when loading some web pages.
Sound
Phone calls with the Incredible 2 were somewhat inconsistent.
I had no problem hearing people, and they had no problem hearing me. The earpiece was reasonably loud. With the volume set all the way up, it is more than enough to overcome noise in a car or taxi. The speakerphone was also loud enough. It will work well in a closed office or in a bedroom as you scurry about, though don't expect it to be able to fill an executive board room. The problem I noticed was garbling and/or indecipherable voices. Callers sometimes had a ragged edge to their voices.
Ringtones and alerts were sufficient, as was the vibrate alert.
Battery
The Incredible 2 makes significant improvements over its predecessor with respect to battery life. Where the original died off relatively early each day, the Incredible 2 can easily pace itself through a long day's use. It won't last two days, though, and probably not 1.5 days. Bottom line, you're going to need to keep an eye on the battery strength indicator.
Basics
Menus
The Incredible 2 runs HTC's latest Sense user interface on top of Android 2.2.1. Sense offers 7 home screens on which to stuff apps, widgets, and shortcuts. The basic menu architecture of Android itself hasn't changed, and HTC hasn't made too many obvious improvements to the main menus. Most of Sense's features are unaltered. What the new Sense does is help the phone to boot faster and it adds several features, such as a unified inbox with labels.
On the home screen, there are three software controls at the bottom of the screen. One opens the main menu (this could be a bigger button, by the way), one takes you to the phone, and the third opens the "Personalize" panel. The Personalize panel lets you find and adjust all the phone's key settings quickly right from the home screen. This includes HTC's Scenes, wallpaper, skins, sounds and alerts, etc.
The drop-down notification shade includes access to alerts as well as recently used applications. Rather than limiting the selection to the most recent four apps, you can slide the app listing sideways to get at the full list of open or recently opened apps. The inner menus don't appear to be altered, except for the nice splash of color.
In terms of performance, the Incredible 2 was rock solid and speedy. It deftly switched from app to app, and screen transitions and other actions were all smooth and free of crashes.
Calls/Contacts
HTC's treatment of the phone application doesn't change too much from what unadulterated Android would provide, but what is different makes the Incredible 2 much easier to use.
By default, the phone app opens with the dial pad on the bottom half of the screen and your top favorites above it. The phone app automatically sorts through your contacts as you dial a number, so you can easily jump though a large contact database quickly.
If you've synced the Incredible 2 with a Facebook account, the device automatically adds not only your friends' Facebook profile pictures to their contact info, it also ports over any phone numbers stored in their Facebook profile. This feature isn't unique to the Incredible 2, though.
The synergy between the calling and contacts apps is very well done with Sense. I like what HTC has done to make them one tool, rather than separate functions. For example, both the calling and contact applications share the same sliding dock at the bottom that lets you sort through contact groupings with a simple swipe of the thumb.
Messaging
Sense and Android together offer a wide range of messaging options on the Incredible 2, with all the basics covered and then some.
There are several different avenues to get your email. First, there is the generic email program. It offers a nice user interface for sorting through messages and works with pretty much any POP3/IMAP4 or Exchange email account you could throw at it. Then there's the native Gmail client, which continues to be one of the best mobile email experiences available.
There are two SMS apps on the Incredible 2. One is the native Android SMS app, the other is the HTC-made Sense SMS app. The main difference is that the HTC app offers a widget that lets you page through your messages from the home screen.
The native Google Talk IM app is on board and functions exactly as it does on other handsets. There is also a generic mobile IM application that connects to AIM, Windows Live and Yahoo Instant Messenger. It actually works pretty well.
There are a number of ways to connect to social networks with the Incredible 2. First, there's HTC's FriendStream. The FriendStream app reaches into your Facebook and Twitter accounts and pulls down status updates in a stream that you can look at quickly. You can also use HTC's Peep application for Twitter, though I prefer the official Twitter application. The native Facebook app is also better than FriendStream for more fully interacting with your account. However, neither the native Facebook app nor Twitter app are preloaded. You have to download them yourself.
Extras
Media
Music
The HTC-skinned music application on the Incredible 2 does all the same things that the stock Android app does, it just looks a little nicer. You can sort through tunes in the usual way, via artist, song, album, genre, composer, etc. Music can be downloaded directly through the Amazon MP3 app if you wish, or sideloaded to the microSD card.
There still isn't any sort of equalizer, but the Incredible 2 packs in an FM radio, which must be used with headphones. There are also a ton of other music apps pre-installed, such as Slacker, and Verizon's V CAST Music, V CAST Ringtone, and V CAST Media stores.
Video
The on-board video app handled all the video files that I threw at it with no problem. Playback was smooth. Movies look good on the large screen. The Incredible 2 also has the standard YouTube application and V CAST Video. Blockbuster is also on board for renting/purchasing movies.
Camera
Camera
The Incredible 2's 8 megapixel camera is fairly solid, and the software is carried forward from other Sense devices. Lack of physical camera key aside, it scores well on pretty much every other detail.
Once you find the camera app, it launches in about 1 second. There are controls on the right side of the screen that let you adjust the flash and effects without opening the menus. This is nice. Fast access to the flash is a must-have feature for me.
You have to toggle the Incredible 2's menu button to get at many of the camera's other controls. These let you adjust the shooting mode, exposure, saturation, sharpness, and add effects. ISO (the camera's "film speed") ranges from 100 to 800. The camera natively shoots in a 5:3 aspect ratio. You have to change it to 4:3 to get the full megapixel count. Other options include geo-tagging, face detection, and an on/off switch for auto-focus.
The Incredible 2 has touch-to-focus; if you see something on the display and you want it to be in focus, press it. The camera will focus on that spot. Press the shutter button on the screen to actually take a picture. The Incredible 2 focuses and shoots pictures quickly. The review screen lets you send the photo off wherever you want to send it with just a few quick taps.
Gallery
As with other Sense phones, the Incredible 2 uses an HTC-made gallery. It can be opened from either the camera or the menu, and presents pictures in either a timeline or via grid. The timeline mixes pictures and videos into one long stream of images and movies. The entire stream flows back and forth in a fluid manner as you swipe your finger to and fro.
I really like the sharing tools in the Gallery. While you're browsing your photos, you'll notice some sharing icons at the bottom of the gallery for Facebook, Flickr, or Connected Media (like your HDTV). These are nice, but I wish there were a few more of these options available. For example, Google's own Picasa is absent.
Pictures can be cropped and rotated, and select effects can be applied. The effects include typical options such as black and white, vintage, antique and so on. If you want to edit things such as exposure, you can do so only with these effects, such as Auto-enhance, Overexposed, and High Contrast.
Photos/Video
Photos
The Incredible 2's 8 megapixel shooter was mostly accurate with exposure, white balance and color. Out in bright sunshine, I noticed that reds got blown out a bit and detail was lost. Shooting bright whites outdoors also gave the Incredible 2 some trouble. Otherwise, images were sharp, mostly free of grain, and had a nice look to them.
They are definitely worth sharing with friends through the social network and/or image sharing service of your choice.
Video
The Incredible 2 can capture video at 720p. The video I shot was crystal clear and full of sharp details. I was actually surprised at how well the Incredible 2 was able to focus and get things such as exposure and white balance correct.
You can definitely record YouTube-worthy moments with the Incredible 2.

Browse/Customize
Browser
It's a shame the Incredible 2 doesn't have LTE. Despite its lack of 4G, the Incredible 2 offers a solid browsing experience through the stock Android browser. Verizon's EVDO 3G network is still reasonably speedy and robust. The Incredible 2's browser rarely ran into any trouble aside from the odd drop to 1XRTT, but when it did, serious problems were almost always related to Flash issues.
Customize
Phone Scoop has noted in the past how HTC's Sense user interface is one of the best when it comes to user customization. The Incredible 2 isn't any different in that regard. Sense lets users adjust about every element of the home screens, wallpapers and other behaviors of the phone.
Extras
Apps
The Incredible 2 can access all of the apps in the Android Market and more. Support for Android is not lacking. If you want apps, they are out there. One thing that stinks, though, is that Verizon Wireless has installed tons of bloatware on the Incredible 2. This bloatware can't be uninstalled and eats up the amount of memory users have for their own apps. It surpasses the Thunderbolt's outrageous 52 apps with a stunning 58. Seriously, Verizon?
Bluetooth
The Incredible 2 can connect with mono and stereo headsets with no problems. I didn't encounter any issues when pairing different devices, and sound quality through both mono and stereo headsets was quite good. The Incredible 2 can also be used to push pictures (and other files) between devices, such as PCs or other phones.
Clock
When you wake the Incredible 2 from sleep, the time is easy to find and read. There are a host of different digital and analog clock faces from which users can pick. The HTC Clock app is off the hook. Basically, every clock-related function you can think of is packed in, such as stopwatch, countdown timer alarms, world clocks, etc. The weather is thrown in for good measure. It looks classy and is a breeze to use.
GPS
Both VZNavigator and Google Maps are installed on the Incredible 2 out of the box. Both offer voice-guided turn-by-turn directions between points, and can re-route you if you get lost. Google Maps 5.0 is particularly impressive because it now offers offline use (in case you roam out of network coverage) as well as 3D maps for a limited number of cities. The VZNavigator software is very good, but it costs $10 per month to use.
Mobile Hotspot
The Incredible 2 supports the mobile hotspot features, allowing up to five other Wi-Fi devices to connect to the internet via Verizon's 3G network. The software is fairly intuitive and I had no trouble setting up a hotspot and connecting several devices.
Wrap-Up
From my perspective, the Incredible 2 is by all rights a great phone. It performs most tasks flawlessly, and, while the phone may have lost a little of the stylistic swagger exhibited by its predecessor, it isn't quite as vanilla as the rest of the slab smartphone crowd.
Battery life is good, phone quality is OK, the hardware is decent, and it has a good mixture of applications and services on board that work well. The $199.99 starting price point isn't too painful, and that is sure to drop over time.
But it's definitely lacking mojo. Mojo in the form of 4G. Sure, 4G phones may cost a bit more out of the gate, but do you really want to be stuck with Verizon's 3G network for the next two years?
(Verizon's LTE network is only going to grow. If perhaps your market isn't covered by LTE right now and you don't see the point in picking a 4G phone, that's totally understandable.)
Aside from the lack of 4G, however, the Droid Incredible 2 makes a marked number of improvements over the original that earn it high marks from Phone Scoop. HTC has delivered a worthy successor in the Droid Incredible 2.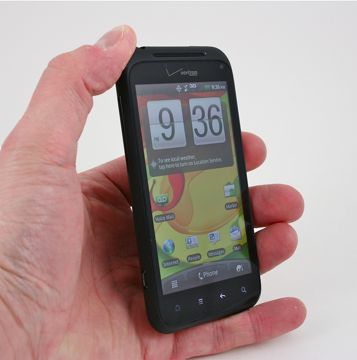 No messages