Review: LG G2x
Article Comments 1
Apr 22, 2011, 10:44 AM by Eric M. Zeman @phonescooper
updated May 1, 2011, 10:20 PM
LG kicks it up a notch with the G2x, its flagship Android smartphone, which has an 8 megapixel shooter and can capture full 1080p HD video. How does it measure up against the competition?
AD article continues below...
Form
Is It Your Type?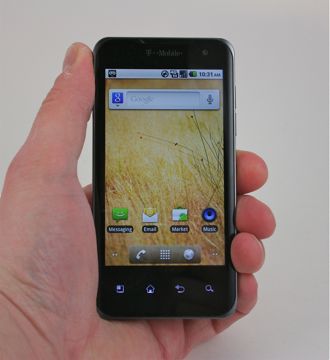 T-Mobile lands another winner in the LG G2x, its latest Android superphone. This slab of smartphone kit is one of the best looking handsets to come from LG. Does the performance match its good looks?
Body
Standing out from the huge crowd of super slabs is becoming tougher and tougher. There's only so much you can do, with respect to design, with these types of handsets. While it surely is conservative in appearance, the LG G2x manages to convey its own sense of style. It feels great in the hand. The quality of the materials is top-notch, and rounded edges make it comfortable to hold and use. It is a little bit on the heavy side, but not overly so. It is thin enough that carrying it in any pocket is not a problem.
The front face is one large piece of glass that has curved edges. These curved edges (which curve downward, toward the side of the G2x) reduce the chunky appearance and make gripping the G2x satisfying. The four Android control buttons are capacitive and built into the display, so they are completely flush. They are nearly impossible to find without looking.
The left side of the G2x is barren. The right side has naught but the volume buttons. Rather than use a single toggle, there are two separate buttons to raise and lower the volume. They are easy to find and use, and have good travel and feedback.
The top edge of the G2x has a lot going on. It has a 3.5mm headset jack, a mini-HDMI port, and the power/lock button. The HDMI port is covered by a hatch. (Now that the HDMI-via-microUSB spec is set, I expect dedicated HDMI ports will vanish over time, but the G2x has one.) The power/lock key is easy to find. It has good travel and feedback, but a bit of a plasticky feel that I didn't care for overmuch.
The microUSB port is built into the bottom edge of the G2x, and is flanked by speaker grills. The battery cover matches the design of the new G-Slate tablet from LG. It has a soft-touch paint job that feels great, and a long metal strip running up to the G2x's camera. My first thought was that the metal strip looked like a kickstand; it's not. I do like the style of it, though.
The battery cover peels off easily enough, allowing you to access the microSD card slot. MicroSD cards can be changed without removing the battery.
The Three S's
Screen
The G2x's display measures four inches, which is a nice middle ground. It doesn't make for a dinner plate sized device, but isn't so small that it's annoying. It packs in 400 x 800 pixels, which is a few short of the competition, but you'd never notice. The pixel density is good and the display looks brilliant. User interface elements pop off the display, and everything is super sharp. The only bummer is that sunlight completely washes it out. Taking pictures outdoors was very difficult.
Signal
The G2x latched onto T-Mobile's HSPA+ network firmly. In the time I spent testing it, the G2x never dropped the T-Mobile signal. It slipped down to EDGE a few times, but most of the time was attached to the "4G" network. The G2x did not drop any calls while I tested it, and data speeds were consistently zippy, even over EDGE.
Sound
The G2x has really good call quality. Phone calls were clear and lacked interference. The one reason I'd not label call quality as excellent can be blamed on a slight echo-y sound. Those with whom I spoke sounded as if they were in a large room. The earpiece was reasonably loud, but a raging TV was enough to make it difficult to hear some calls, even with the G2x set to the maximum volume. The speakerphone was solid, though some of the echo problem was noticeable there, as well. The ringers and alert tones were loud enough, but I thought the vibrate alert was a little bit weak.
Battery
Battery life was average for an Android smartphone. The G2x easily made it through a full day's use and well into a second. I was able to kill it off in one full day of testing (7AM to 11PM), but that was with an insane amount of use that I wouldn't call normal, including a lot of gaming. As with most Android smartphones, the G2x will probably need to be charged every night, but not doing so won't leave you disconnected come morning time.
Basics
Menus
For the most part, the LG G2x uses a stock Android interface with almost no intervention from T-Mobile. There are a few apps loaded by T-Mobile that cannot be removed, but otherwise the homescreen panels and buttons, the application drawer, and all the system menus that lie beneath are basic Android 2.2 "Froyo."
The G2x offers five home screens (as opposed to seven), which leaves plenty of room for users to customize the appearance and placement of widgets, apps and so on.
What's best about the G2x, though, is its performance. It has a dual-core 1GHz Tegra2 processor inside, and WOW can you tell it's in there. The G2x is, without a doubt, the fastest Android device I've ever used. There's no delay, no stalling, everything just happens instantly. When put side by side with any other Android phone, it clearly kicks the pants off of it in speed, fluidity of the UI, and application performance.
Calls / Contacts
Calling
Making calls from the LG G2x couldn't be easier. There is a calling shortcut that persists at the bottom of every home screen panel. Press that button and you are taken to the last calling function you viewed, so if you were browsing the call log, that's what you'll see first. The phone and in-call options are standard Android, and that's a good thing.
The G2x also includes T-Mobile's Wi-Fi calling service. Though it's not as great as T-Mobile's older Hotspot @Home service, it works well for making phone calls through your home internet connection rather than the cellular network.
Contacts
The LG G2x did a fine job synchronizing my contacts. The phone can sync with Google contacts, Exchange servers, Facebook and Twitter. When you add a new app, like Skype, the phone can synchronize with those contacts as well. From your contact list, tapping a picture brings up a small row of icons so you can quickly make a call, send a message or email, or even start a navigation trip, if you have a postal address listed.
Messaging
The messaging options on the LG G2x are standard Android fare. SMS/MMS messages are displayed in a conversational, threaded format. It's easy to attach media and information to your messages, including pics and videos, as well as navigation coordinates and contact info.
For instant messaging, the G2x comes with Google Talk. Like most Android phones, there are no other IM apps on board, but there are good options available from the App Market.
For email, there is Gmail and then there is everything else. Everything else can include Exchange accounts, with support for multiple Exchange servers, as well as POP3 and IMAP4 mail accounts. The Gmail app is superior, with more features for managing, organizing and labeling messages. The generic email app for Exchange and other accounts does a fine job, too.
Besides the built-in contact sync support, the LG G2x also includes apps for Twitter and Facebook. These apps come with widgets, so you can read status updates or post new updates yourself directly from the homescreen, without opening an app. The full Facebook and Twitter apps have gotten dramatically better in the last few months. There are few features that are unavailable from the Android apps for these services.
Lastly, there's Qik for video chats. I've had only hit-or-miss experiences with Qik. You can only Qik with other Qikkers. The application works, eventually, but takes some persistence to configure correctly.
Extras
Media
Music
The T-Mobile G2x uses the stock Android music player. It has some great features, like easy search options from the Now Playing screen to find more music in the Amazon MP3 Store or on YouTube. But it lacks advanced playback options, like the fine-tuned controls you'll find on an iPhone. The G2x also lacks music equalizer options.
The phone comes with 8GB of built-in memory, and it did not have a microSD card in the box. Music can be sideloaded via USB storage mode, placed directly on your own microSD card, or added with third-party software such as DoubleTwist. Music sounded good through my favorite headphones.
Video
Of course the YouTube app is on board for all the free mind-numbing video you can possibly consume. The G2x also has T-Mobile TV, which is a streaming service that offers small segments of television content.
There is also a dedicated video player application on board. It easily finds all the local video content and wraps it up in a nice viewer.
Gaming
The G2x is being positioned as a gaming device. It ships with the TegraZone app preloaded, which is a mobile storefront for purchasing applications and reading about upcoming games. Right now, it looks like there are only 12 games available from TegraZone, but that will surely change. They ranged from free to $4.99. There are also a number of games installed on the device when it ships, including Need For Speed, Nova and EA Games.
I took Need For Speed for a test drive. Wow. It's a solid game, and it worked perfectly on the G2x. It's a 3D racing game. It was fast and the 3D elements to the game environment looked great. Considering that this is a phone, it's a really powerful gaming device.
Given the G2x's dual-core processor, I would expect developers to push it pretty hard when it comes to rich games.
Camera
Camera
The G2x has an 8 megapixel camera and has some really nice features to it. There's no physical camera button, so you have to access it from a shortcut or the app menu. It launches in a snap. The basic shooting screen uses about 80% of the display's real estate as the viewfinder. In the right-most 20%, there is a simple control strip that includes a camcorder toggle, shutter button, and access to the gallery.
Press the screen to pull up a secondary control strip, which offers access to all the camera's features and controls. The options are numerous. For anyone who likes to control the behavior of their camera, there's a lot to like. Items such as metering, scene mode, ISO, white balance, color effects, shooting mode and on and on are available.
When you're ready to take a picture, press the on-screen shutter button. The G2x takes about a second to focus, and then snaps the image. A review screen pops up instantly. You need to tap the screen to get back to the camera.
Given all the great features of this camera, I am puzzled by one that's missing: touch to focus. The G2x has a central focusing grid, but that's it. You can't tap your friend's face in the viewfinder and force the camera to focus there.
Gallery
The gallery is the stock Android option. Photo albums float in stacks in the main gallery view, and you can sift through them in the chronological timeline in which they are arranged. It has a neat 3D look and feel to it. Sadly, editing options are severely limited. Crop and rotate are all you get.
This is one application, however, where the G2x's enhanced performance are felt. The gallery exhibits absolutely no sluggishnes. It's insanely fast. Full size images — which can be as large as 4MB — fly past on the screen when you're zooming through your library.
Photos/Video
Photos
I ran into a problem with the G2x's photos. There's some sort of film on the clear plastic that protects the lens. Whatever this film is, I couldn't remove it. The result is a haze on most images I captured, which you should notice in the photos below.
Aside from the presence of this haze, however, the G2x did a fine job of capturing color and white balance accurately. Focus was also good and plenty of detail comes out in all the images I captured. The camera did have some trouble getting sharp focus indoors, as you can see on the shots of my guitar equipment.
It's hard to offer a final judgment on the G2x's camera with this presence of the haze.
Video
The G2x shoots in full 1080p HD. That's impressive. At full resolution, that's large enough to fill many computer screens. Unfortunately, the 1080p HD video I shot suffered from the same haze that still photos did. Again, haze aside, the video I captured looked really good. Focus was sharp, white/color accuracy was spot on, and the level of detail that comes through is incredible.
The one downside here is that 1080p HD will chew through your memory cards in an instant. For example, the 37 second clip I shot below came in at 55MB, so you're looking at about 100MB per minute of HD video. You can, of course, dial the G2x's video camera down to 720p HD or lower if you wish.
Browse / Customize
Browse
The Web browser on the LG G2x is top notch. It's the standard Android browser with no frills or additions, but that's good enough. Web pages loaded very quickly. The LG G2x handily defeated every other phone I have on hand in head-to-head browsing tests over the data network. HSPA+ does wonders for Web browsing, and even at its least impressive speeds, T-Mobile's network provided a great experience.
Customize
Out of the box, the G2x offers plenty of customization options, though the more extensive selection of widgets available on Motorola Motoblur or HTC Sense phones surpasses what's available from the LG. Still, you can customize the five different home screen panels with widgets and shortcuts, and the phone comes with an assortment of still images and live wallpapers, or you can add your own.
Extras
Bluetooth
Bluetooth worked well with the LG G2x. I was able to pair all of my Bluetooth devices with no trouble. The phone connected quickly to my Bluetooth headset, and sound quality was better than I expected, though sound did occasionally crackle or drop out. I was also able to play music through my stereo speakers.
Clock
The T-Mobile G2x does a fine job as a watch replacement, though it lacks some style. The lock screen offers a big digital clock. You can use the included widget to place analog clocks on any home screen, though the phone lacks the dozen or so clock choices you'll find on an HTC Sense handset. The phone also keeps the time in the notification bar, which remains up top through most apps.
GPS
GPS performance on the G2x was impressive. The phone found me quickly and tracked me accurately. The G2x uses Google Maps for navigation, and Maps works very well. It also has TeleNav's mapping application, which is also excellent — as long as you don't mind the $10 monthly cost.
Other Extras
Other preloaded applications include T-Mobile's App Pack, Hightlight (news aggregater), Google's Places and Latitude, Polaris Office, DLNA content sharing, and the Zinio Reader software.
Wrap-Up
The LG G2x is an excellent phone. It looks good and the hardware lets you use the device quickly and with no hassles. It nails the basics, such as call quality, battery life and network performance. It has capable messaging options, including the latest and greatest social networking apps.
While it defers to the stock music player, the added video options are nice to have. The camera appears to perform well, and the ability to shoot 1080p HD is a rare characteristic. With the HSPA+ network available, browsing and downloading speeds are fantastic. It doesn't hurt that the G2x has a dual-core processor under the hood, providing all the horsepower this phone need for gaming and other processor-intensive apps.
In sum, my experience with the G2x was solid all the way through. It's an attractive, capable phone that makes the right compromises (such as screen size) in order to find the perfect middle ground. For the discerning T-Mobile customer, the G2x is a solid choice, especially if you have access to T-Mobile's fastest HSPA+ network.
Bottom line, the LG G2x offers blazing fast performance, a rich mixture of features, and wraps up all up in a styling phone that is worth your attention.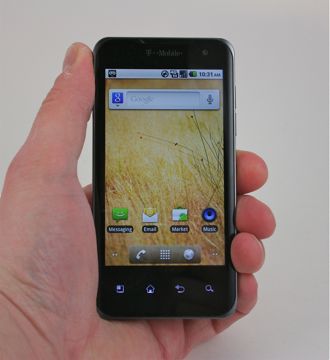 Otterbox cases...not available?
😡

Nothing has become available for this, t-mobile version, phone yet. Aren't they all the same? In my experience, Otterbox cases have always been the best protection for any phone. Any word on a new product for this phone?