Review: Motorola Q
Form Basics Extras Video Wrap Up Comments 100+
Camera Pictures and Videos Browse / Customize Other
The Q is a photographic step up over previous Motorola phones. Clarity has greatly improved over similar cameras in previous models. The Q scored an impressive 20/40 on the vision test, and color is equally accurate in controlled lighting conditions. In bright light, light spot in pictures still get bleached out into a white haze, which now has a noticeable purple tint. In dark bars, the Q performed better, taking mediocre shots without the flash, and good shots with it.
The video resolution maxes out at QCIF (176 x 144) and clips be recorded in 10 second, 30 second or unlimited lengths. Video is smooth and sharp for its size. The sound is also remarkably clear - the Q didn't even record much wind or background noise.
AD article continues below...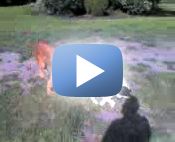 3GPP2 / MPEG-4 format (viewable with QuickTime)
File size: 229 KB