Review: Kyocera Echo
Form Basics Extras Wrap-Up Comments 6
Is It Your Type? Body The Three S's
Apr 12, 2011, 11:00 PM by Eric M. Zeman
updated Apr 22, 2011, 10:42 AM
Kyocera boldly ventures forth where no smartphone has ventured before with the dual-screened Echo. Kyocera attempts to answer a question that has plagued humankind since the beginning of time.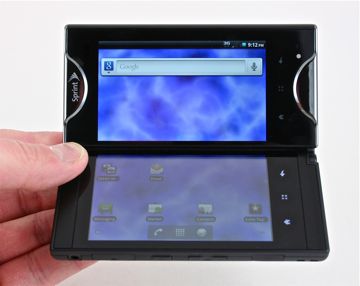 The Kyocera Echo, with its dual-screen design, boldly goes where no smartphone has gone before. Do you dare follow it? Only the adventurous soul seeking a radically new smartphone experience need apply, as Kyocera sets out to prove if two displays are truly better than one.
Sure--
--it's clunky, squared off & huge. But it's still frickin' cool.

Great review.
I think what he means is he likes the concept but as of right now its ugly and our current technology and it being the first one does not allow it to be perfect. But just like touch screens were a first and not perfect, either is this dual touch scree...
(continues)
My first car ever (1989 Volvo Wagon) was clunky, squared off, and huge - but it served me well, and could certainly take a lickin and keep on tickin! And it was definitely frickin' cool. ;)
I've been saying this all along...
"The Echo is the first handset that can honestly and truly multitask, as far as I am concerned"
And it's true.
No matter how hard you bash Windows phone or iOS, NO PHONE truly multi-tasks unless you can actually USE two apps at the same time like on a computer.
It would be fun to see a better manufacturer produce a phone like this... HTC???
amen. I can't wait to see one of these in action...

Kyocera might not be at the height of fashion, but they have usually built solid devices (7135, anyone??).