Review: HTC Thunderbolt
Article Comments 14
Mar 18, 2011, 4:20 PM by Eric M. Zeman
updated Mar 29, 2011, 2:18 PM
Phone Scoop takes an in-depth look at HTC's Thunderbolt, the first LTE 4G smartphone to become available from Verizon Wireless. Can it live up to the hype — and the hope — for the future of 4G?
Form
Is It Your Type?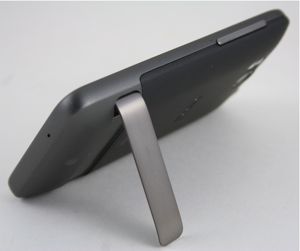 The HTC Thunderbolt is for Joneses. You know, those guys on your street who always get the latest and greatest thing before everyone else. The Thunderbolt is, of course, the first Long Term Evolution 4G handset for Verizon's spanking new LTE network. Can this "first" even come close to living up to the hype — and hope — surrounding it?
Body
The HTC Thunderbolt is a big, big phone. Its 4.3-inch display mandates a dinner-plate sized footprint and that's exactly what you get. It is moderately thick, though by no means the thickest phone we've tested here at Phone Scoop. It is weighty, too. Apparently cutting-edge radio circuits and thin profiles aren't yet a possibility. Despite its sheer size, it's not uncomfortable to hold and use. The back edges are pleasantly rounded, and the soft touch paint job on the back cover has an organic feel to it. If you've got big pockets, the Thunderbolt will fit.
HTC doesn't break any new ground in terms of the appearance and design of the Thunderbolt. In fact, it looks nearly identical to the wide range of super slabs that HTC has produced of late. The colors are conservative (greys, silver and black), and the Thunderbolt doesn't stand out visually from the large pack of Android devices in the market.
The four standard Android controls are placed on the front of the device under the screen. I am really beginning to wish these buttons appeared in a mandated order. Every handset seems to jumble them up at will. These buttons are the touch-sensitive type, and produce haptic feedback when pressed.
The microUSB port is on the left edge, close to the bottom of the handset. The volume toggle is on the right side, closer to the top. I am tired of HTC's volume toggle designs. This is another string-thin dash that is mushy to use. It doesn't feel good under your thumb, and the travel and feedback are simply not enough. I want something better from a $250 handset. The power/lock key and 3.5mm headset jack are on the top of the Thunderbolt. Thankfully, the power/lock key is easy to find and use.
Nowhere to be found? A dedicated camera key. For a device that packs an 8 megapixel camera, I expected HTC to include a camera button. Nope.
In what appears to be a new staple for its super slabs, HTC has added a kick-stand to the Thunderbolt. It is a thin strip of metal embedded into the back of the device. Pry it out with your fingernail and it will let the Thunderbolt rest at a nice viewing angle on a hard surface. It is one of the few pieces of metal on the device and has a brushed finish to it. It looks nice, and is easier to use than the kick stand that was on the HTC Surround. Due to where the kickstand and microUSB port are located, it is impossible to charge the Thunderbolt while watching a movie.
The microSD card slot is located in the battery compartment. Unfortunately, you have to remove the battery cover and the battery to get at the card slot.
From a design standpoint, the Thunderbolt follows the beaten path.
The Three S's
Screen
The 4.3-inch display has 480 x 800 pixels, the same as many other Android smartphones in the market. This resolution has been good on every handset we've seen, and the Thunderbolt is no different. The pixel density is good enough that most elements on the screen are smooth and don't display any ragged edges. (Still, we wonder why HTC went with 480 x 800 when the Droid Bionic will have a 540 x 960 display). In terms of brightness, it's perfect for indoor use, but sunlight washes it out entirely when outdoors. Using it as a camera on a sunny day was problematic. One thing I like: HTC has added a brightness home-screen widget that lets you quickly cycle through three different brightness settings, though you can still jump into the main settings tools to more finely tune brightness.
Signal
The Thunderbolt's most significant feature is its ability to use Verizon's nascent LTE network. Oddly, there are no controls whatsoever for the LTE radio. It's simply on all the time. When you have LTE coverage, the Thunderbolt automatically jumps onto LTE, and when you leave LTE coverage, it drops down to 3G. Since I don't have LTE coverage where I live, I had to drive to find it. Aside from NYC, Verizon also provides LTE coverage at Newark Airport and Teterboro Airport in NJ. I chose to drive to Teterboro to test the LTE network there.
I parked my car in the Teterboro lot and noticed that the Thunderbolt had already jumped onto 4G. I did some light surfing and noticed that web pages were loading incredibly fast. I walked into the terminal and set up shop there for about an hour. The Thunderbolt showed me two bars of LTE coverage. I was probably the only person using LTE in the airport. The phone had no trouble connecting at all. Speeds were consistently awesome. Downloads ranged between 10 - 16Mbps and uploads pushed through between 3 - 6Mbps. That's some good stuff.
I activated the mobile hotspot feature, and was still able to get remarkably fast download speeds through the Thunderbolt on my laptop, too. It worked like a charm, and let me connect the three Wi-Fi devices I had on hand to Verizon's LTE network.
As for 3G, the Thunderbolt performed slightly below average when compared to other 3G phones. It had a few less bars and a few dropped/missed calls.
Sound
The Thunderbolt is a fine voice phone. The quality of voice calls was quite good, with little noise. The earpiece speaker is plenty loud, and should let users hear conversations in all but the loudest environments. Ringers and other alerts were also nice and loud, though not annoyingly so. The speakerphone worked very well. Quality and volume were both excellent. The vibrate alert was decent, but not quite as strong as I'd like.
Battery
Ah, battery, battery, battery. LTE and good battery life would appear to be mutually exclusive. When using the Thunderbolt in my 3G-soaked home, the battery life was excellent. It lasted well more than a single day, even with heavy use of email and social networks. Even though the LTE radio is on, using the Thunderbolt in 3G-only areas results in good battery life. Using LTE is an entirely different matter. First, the battery is alarmingly small at only 1400mAh. When I brought the Thunderbolt to Teterboro, it had a full charge. After using LTE intensively for a little over an hour (with mobile hotspot), the battery had 20% life remaining. In other words, heavy use of the LTE radio will destroy your battery life incredibly fast. This stinks. You can opt to carry around a second battery, or always keep the Thunderbolt plugged in when using LTE. Unfortunately, we are unable to report with authority how the battery performs when spending an entire day under LTE coverage with moderate use. We'll update this review once we can.
Basics
Menus
The Thunderbolt runs HTC's Sense user interface on top of Android 2.2.1. Sense offers 7 home screens on which to stuff apps, widgets, and shortcuts. The basic menu architecture of Android itself hasn't changed, and HTC hasn't made too many obvious improvements to the main menus.
Sense remains a capable way to interact with Android phones. The number of customization options, for example, borders on the ridiculous. Nice touches abound that make the whole experience more pleasant, such as the thoughtfully put together "Favorites" widget or the re-touched music application.
As for speed, the Thunderbolt has a single-core 1GHz processor, but it uses a new, second-generation Qualcomm Snapdragon MSM8655 processor. I saw zero speed issues with the user interface. Everything absolutely flew on the Thunderbolt. Applications opened instantly and screen transitions and animations were all smooth.
The Thunderbolt did, however, exhibit a number of app crashes. The Android Market, in particular, vexed the Thunderbolt to no end. It consistently gave me errors when attempting to download apps, and crashed often. Hopefully this is a minor problem that Verizon can fix quickly with a software update.
Calls/Contacts
HTC's treatment of the phone application doesn't change too much from what unadulterated Android would provide, but what's different makes the Thunderbolt much easier to use.
By default, the phone app opens with the dial pad on the bottom half of the screen and your top favorites above it. The phone app automatically sorts through your contacts as you dial a number, so you can easily jump though a large contact database quickly.
If you've synced the Thunderbolt with a Facebook account, the device automatically adds not only your friends' Facebook profile pictures to their contact info, it also ports over any phone numbers stored in their Facebook profile. This feature isn't unique to the Thunderbolt, though.
The synergy between the calling and contacts apps is very well done with Sense. I like what HTC has done to make them one tool, rather than separate functions. For example, both the calling and contact applications share the same sliding dock at the bottom that lets you sort through contact groupings with a simple swipe of the thumb.
Messaging
Sense and Android together offer a wide range of messaging options on the Thunderbolt, with all the basics covered and then some.
There are several different avenues to get your email. First, there is the HTC-made email program, which was designed to support Exchange email accounts. It offers a nice user interface for sorting through messages. The Thunderbolt works with pretty much any POP3/IMAP4 email account you could throw at it with this generic email app. Then there's the native Gmail client, which continues to be one of the best mobile email experiences available.
There are two SMS apps on the Thunderbolt. One is the native Android SMS app, the other is the HTC-made Sense SMS app. The main difference is that the HTC app offers a widget that lets you page through your messages from the home screen.
Google Talk is the only native IM app on board. Want more? Go fishing in the Android Market.
There are a number of ways to connect to social networks with the Thunderbolt. First, there's HTC's FriendStream. The FriendStream app reaches into your Facebook and Twitter accounts and pulls down status updates in a stream that you can look at quickly. You can also use HTC's Peep application for Twitter, though I prefer the official Twitter application. The native Facebook app is also better than FriendStream for more fully interacting with your account.
Extras
Media
Music
The HTC-skinned music application on the Thunderbolt does all the same things that the stock Android app does, but the refreshed appearance goes a long way towards making you feel like it's an entirely new app. You can sort through tunes in the usual way, via artist, song, album, genre, composer, etc. Music can be downloaded directly through the Amazon MP3 app if you wish.
While at Teterboro airport, I downloaded an entire MP3 album through the Amazon MP3 Store. It took 58 seconds for the 125MB to download. Not bad.
There is an equalizer that only works when headphones are plugged in. It allow you to adjust the sound more to your liking. Thunderbolt packs in an FM radio, which must be used with headphones. There are also a ton of other music apps pre-installed, such as Rhapsody, Slacker and TuneWiki. Oh, and we can't forget Verizon's V CAST Music store.
Video
The on-board video app handled all the video files that I threw at it with no problem. Playback was smooth and free of any weirdness. Movies look good on the large screen, and it's fun to prop the Thunderbolt up on your desk and watch for a bit.
Camera
Camera
The Thunderbolt's 8 megapixel camera is fairly solid, and the software is carried forward from other Sense devices. Lack of physical camera key aside, it scores well on pretty much every other detail.
Once you find the camera app, it launches in about 1 second. There are controls on the right side of the screen screen that let you adjust the flash and effects without opening the menus. This is nice. Fast access to the flash is a must-have feature for me.
You have to toggle the Thunderbolt's menu button to get at many of the camera's other controls. The controls let you adjust the shooting mode, exposure, saturation, sharpness, add effects, as well as dial down and alter the core settings. ISO (the camera's "speed") ranges from 100 to 800. The camera natively shoots in a 5:3 aspect ratio. You have to change it to 4:3 to get the full megapixel count. Most people won't notice or bother with this. Other options include geo-tagging, face detection, and auto focus can be turned off.
The Thunderbolt has touch focus; if you see something on the display and you want it to be in focus, press it. The camera will focus on that spot. Press the shutter button on the screen to actually take a picture. The Thunderbolt focuses fast and shoots pictures fast. The review screen lets you send the photo off wherever you want to send it with just a few quick taps.
Gallery
As with other Sense phones, the Thunderbolt uses an HTC-made gallery. It can be opened from either the camera or the menu, and presents pictures in either a timeline or via grid. The timeline mixes pictures and videos into one long stream of images and movies. The entire stream flows back and forth as you swipe your finger to and fro, in a very fluid manner.
I really like the sharing tools in the Gallery. While you're browsing your photos, you'll notice some sharing icons at the bottom of the gallery for Facebook, Flickr, or Connected Media (like your HDTV). These are nice, but I wish there were a few more of these options available. For example, Google's own Picasa is absent.
Pictures can be cropped and rotated, and select effects can be applied. The effects include typical options such as black and white, vintage, antique and so on. If you want to edit things such as exposure, you can do so only with these effects, such as Auto-enhance, Overexposed, and High Contrast.
Photos/Video
Photos
The Thunderbolt's 8 megapixel shooter was mostly accurate with exposure, white balance and color. Out in bright sunshine, I noticed that reds got blown out a bit and detail was lost. Shooting bright whites outdoors also gave the Thunderbolt some trouble, causing white balance to adjust too far. Otherwise, images were sharp, mostly free of grain, and had a nice look to them.
They are definitely worth sharing with friends through the social network and/or image sharing service of your choice.
Video
The Thunderbolt can capture video at 720p. The video we shot was crystal clear and full of sharp details. I was actually surprised at how well the Thunderbolt was able to focus and get things such as exposure and white balance correct.
There's a near-fatal flaw, however. Moving the Thunderbolt at all during recording, even the most minor movement, caused extreme jitteriness and shaking in the video. In fact, the jittering is so severe, I nearly got motion sickness watching the video I shot.
Browse/Customize
Browser
Browsing the web when covered by LTE 4G is flat-out ridiculous. Web sites load instantly. There's no delay, no hesitating, the pages just appear. Everything from NYTimes.com, CNN.com, ESPN.com, YouTube.com, CollegeHumor.com, and so on loaded in a snap and looked great on the Thunderbolt's big display. As noted above, download and upload speeds were hugely fast, though it is worth mentioning that I was probably the only person using the LTE network at Teterboro airport. Having LTE backing up the browser is simply awesome (as long as you have a power outlet nearby).
Customize
We've noted in the past how HTC's Sense user interface is one of the best when it comes to user customization. The Thunderbolt isn't any different in that regard. Sense lets users adjust about every element of the home screens, wallpapers and other behaviors of the phone.
Extras
Apps
The Thunderbolt can access all of the apps in the Android Market and more. Support for Android is not lacking. If you want apps, they are out there. One thing that stinks, though, is that Verizon Wireless has installed tons of bloatware on the Thunderbolt. This bloatware can't be uninstalled and eats up the amount of memory users have for their own apps. There are 52 apps on the phone out of the box. That's kind of ridiculous.
Bluetooth
The Thunderbolt can connect with mono and stereo headsets with no problems. I didn't encounter any issues when pairing different devices, and sound quality through both mono and stereo headsets was quite good. The Thunderbolt can also be used to push pictures (and other files) between devices, such as PCs or other phones.
Clock
When you wake the Thunderbolt from sleep, the time is easy to find and read. There are a host of different digital and analog clock faces from which users can pick. The HTC Clock app is off the hook. Basically, every clock-related function you can think of is packed in, such as stopwatch, countdown timer alarms, world clocks, etc. The weather is thrown in for good measure. It looks classy and is a breeze to use.
GPS
Both VZNavigator and Google Maps are installed on the Thunderbolt out of the box. Both offer voice-guided turn-by-turn directions between points, and can re-route you if you get lost. Google Maps 5.0 is particularly impressive because it now offers offline use (in case you roam out of network coverage) as well as 3D maps for a limited number of cities. The VZNavigator software is very good, but it costs $10 per month to use.
Video
Wrap-Up
If the Thunderbolt were a regular 3G smartphone, it would be a near home run. Aside perhaps from the large and weighty size, everything about the Thunderbolt is solid. It has a good design; solid signal performance; good voice call performance; and good battery life when in 3G-only areas.
The Sense user interface and other applications customized by HTC make this Android device a cinch to use and adjust. The camera application is great, and mostly produces great results. Aside from a severe case of the shakes, the HD camcorder also does well.
With LTE 4G coverage, the Thunderbolt's browsing and download prowess is second to none. Speeds are Millennium Falcon-fast and are capable of out-pacing most wired home broadband connections. But it comes at a severe cost in battery life. Intense LTE use can wreck the battery in just a couple of hours. Two-hour battery life isn't acceptable in any device, let alone a smartphone.
(It's a shame, really. I have to question why the Thunderbolt doesn't have a larger battery. At only 1400mAh, it seems HTC is limiting the battery on purpose in order to sell the extended-life battery, which packs 2750mAh at a cost of $50.)
Would I recommend the HTC Thunderbolt, Verizon's first LTE handset? Sure. It's a great smartphone. The only significant drawback is the crippled battery life when using the Thunderbolt's best feature.
The Thunderbolt is like a Ferrari. It may be fast as all get-out, but that speedy engine consumes a lot of fuel.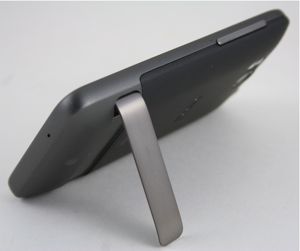 trade Incredible for thunderbolt?
anyone thinking of upgrading to this new phone?
I did last week. And just got back from store after returning it.

Battery life is just terrible and I am not one that wants to carry a second battery, bolt on the brick extended life battery or always have it plugged in.

Still waiting for one o...
(continues)
I don't understand...
I just don't get why they didn't have this taken care of before hand knowing what they knew about the EVO and it's other siblings.
Essentially this is the EVO for Verizon with very slight tweaks here and there. The same battery life that became famous with the EVO is now on it's twin brother, the Thunderbolt.
All the specs for this thing have been out for a minute, so the only thing that actually surprised me about the device is the lack of a 4G toggle. With Verizon's own admitted plans to TIER data plans soon, that's not a comfortable thought. Forced overage anyone? Not to mention that means the phone is always going to be looking for a 4G network. Even more battery gone.
And can someone tell me why I have to pay $249 for it?
I had hig...
(continues)
Why are you complaining about paying $249. Uggggghhhh People kill me sometimes.

Its arguably the best Android phone on the best network in the country. It's a very fair price and I believe you get a 32gb sd card which pits this phone directly aga...
(continues)
My biggest question is:
Does it blend?

😁
+1 good sir 🙂 havent watched those videos in a while