Verizon Launches LG VX-4500
Article Comments 12
Jan 28, 2004, 12:04 PM by (staff)
updated Jul 28, 2019, 3:17 PM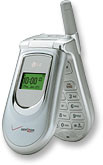 LG Mobile Phones and Verizon Wireless today announced the VX-4500, the successor to the popular VX-4400. The new model adds a two-way speakerphone function and advanced voice control. The voice features are speaker-independent, requiring no training. Users can dial contacts by name or number, and control other features of the phone such as the calendar. The VX-4500 will be available tomorrow, for as low as $89.99 after rebate, with a two-year contract.
Sprint to Verizon. Did I screw up?
Hi,

I've had my 4500 since last Saturday. Switched from Sprint PCS (the anti-christ of cell providers). I live in the middle of a med.-sized city and couldn't use Sprint anywhere in neighborhood. Had to drive 2 blocks away to make long distance calls.

Anyway, I switch to Verizon because of their reputation for being a first class outfit. Well, my first experience did NOT inspire confidence. The sales person was way helpful and courteous- she even gave me free Saturday delivery. Well the phone arrived but there was a glitch porting over my old number. I talked to 3 different reps last Saturday and each went on and on about Sprint holding everything up. After about 55 min. total of talking I was told it would be ported at 8:00pm ...
(continues)
Looks worse than 4400
compare using phonescoop with the 4400 - it has less features, some of them key - mainly no analog
the only feature (if it can be reffered to it as a feature ) IS that the phone the phone does not have analog, after that the 4500 has MORE features than the 4400. I really dont understand why SO many people get their feathers ruffled about the no ana...
(continues)
actually has a TON more features than the 4400.. it's a nice phone!
Missing the boat here people......
The LG VX 4500 is the next step in technology offering an all Digital platform with WAP 2.0. For those of you who have the handset, check out the Wireless Web feature. You now have enhanced abilities and graphics. This is another great phone by LG and even though it is not the most stylish model out there, the equipment combined with the most reliable network give any customer a win / win situation.
lg vx-4500 looks like an egg
we've had the phone in verizon for a cuple of days and the phone looks not sooo good but i seems like it has some good features
i'm lookin foward to see what the people think of it when they go the store
where is your verizon store located at? this phone is not available in new jersey
LG VX-4500 impressions. Any comments on this or verification?
Got phone yesterday 1/30/04. My first clam shell. Am using with Verizon. Am impressed with it but found 1 bug and a little nit (little bug).
All in all I think it is a good phone, voice recognition is pretty good-better than my Kyocera 3035e. Screen is fairly good but in bright sunlight could be a little tough to read. A lot of ring tones but of course I will try to download some other ones.

This phone as you may know can dial by your saying the digits of a phone number
or by saying a name. It is fairly accurate on the names and if it does not find the right match it will announce a few others (up to 4) that you can approve (say "Yes") for dialing.

I wish there was a DIAL Command so I could simply say "DIAL JOE HOME". However this is...
(continues)
Possible answer to your concern re: volume changes. Using the "jump" feature, go to " L.G. 4500". Then go to the 'forum' page, and check out the entry from "modamnway", dated Friday, Jan.30, at 7:47 p.m.
Lots of good info from other users th...
(continues)