Nokia Announces EDGE Smartphone
Article Comments 4
Jan 14, 2004, 9:49 PM by (staff)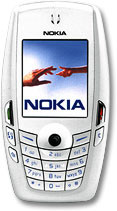 updated  Nokia today announced the 6620 smartphone with EDGE high-speed data. The phone uses Nokia's Series 60 smartphone platform. While similar to the 6600 in appearance, the 6620 adds EDGE, stereo audio, a faster processor, additional memory (12 MB built-in plus 32 MB card) and a Pop-Port accessory connector. Additional features include a VGA camera with video recording and Bluetooth. The tri-band phone works on GSM/EDGE 850, 1800, and 1900 networks. The 6620 is expected to be available in the Americas around April 2004.
WHAT CARRIER?
Does anyone know? 😁
since it has the 850, Cingular and/or AT&T Wireless
Can't wait!
I just got back from China yesterday where Nokia is really pushing the 6600. Nokia is the best in the market, and this phone is sure to be a trend setter. I will purchase it as soon as possible!
Nice..
Seems the 6620 will be my upgrade from the 3650. Nice phone.