Sony Ericsson Reveals Xperia Play for Verizon
Article Comments 10
Feb 13, 2011, 1:38 PM by Rich Brome @rbrome
updated Feb 13, 2011, 2:11 PM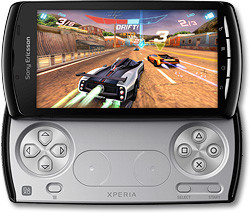 Sony Ericsson today revealed the Xperia Play, a long-rumored and leaked gaming phone. Surprisingly, the company announced that Verizon Wireless will be among the first carriers to launch the Play, in "early spring". The phone sports high-end specs, Android 2.3 "Gingerbread", and slide-out gaming controls. Key features include 4" screen, 5-megapixel main camera, 1 GHz main processor, and Adreno graphics chip.
I actually excited...
to play wit one of these. I think it'll be neat to at least try out. I don't know if I'd actually purchase one, but we'll see.
OMG my typing was TERRIBLE! Sorry!
Amazing
VZW announces something related to pricing and these boards light up like the 4th of July with nasty remarks. A major device from a GSM carrier associated with a major videogame console gets announced for said network, and the board is dead silent.
Sorry, meant manufacturer, not carrier. (damn it Phonescoop, can't you get modern and allow editing???)
You do realize that today is Sunday? Most Phonescoopers are not going to browse this forum today unless they are unfortunate enough to be working.
Unbelievable!
I would not have believed this in a million years! SE does NOT do CDMA phones. What gives? I remember that little blue oval Ericsson phone Verizon sold in 2003 before Ericsson exited the theater and there was a Sony square handset that was flimsy a few years earlier. I would be very wary of jumping on this one. It should be interesting to watch though. What a shock!