Review: T-Mobile MDA
Form Basics Extras Video Wrap-up Comments 41
Is It Your Type Body Three S's
Screen
The MDA uses a touch screen, and suffers from the same weaknesses as all devices that use them. At its default setting, the screen is a bit dim and the colors slightly washed out indoors. In sunlight the screen becomes difficult to see at all. After boosting the brightness all the way up, it is plenty bright indoors, but is still difficult to use in bright sunlight. To its credit, the MDA's screen does not suffer from the grid-like overlay that adds a moire pattern to some touch screens.
Signal
Signal strength is not the MDA's strength. It lost signal further away from the center of dead zones than any other handset we have tested. It barely passed the vault test, making a staticky call only after a number of tries. The MDA was also very slow to re-connect to the network when exiting dead zones. It was also slow to display the loss or gain of signal. If the screen was powered off while the network signal was lost, it would often take quite a long time to display the lack of signal (an antenna with animated dots where the bars would be) once the screen was turned on.
There were occasions when the MDA would just stop working as phone. On one occasion it would not make or receive calls or do anything else that required the cellular network, but gave no indication it wasn't working. When the phone was turned off and on again, it worked fine. On several other occasions we would take the phone out to find that all radios - cellular, bluetooth, etc. had been turned off without our touching the device. In this case there were visual indicators that all radios were off, and all were easily turned on again from the comms manager button.
AD article continues below...
Wi-Fi signal strength was better than phone signal. The MDA picked up even weak networks and was able to join most open networks without a hitch.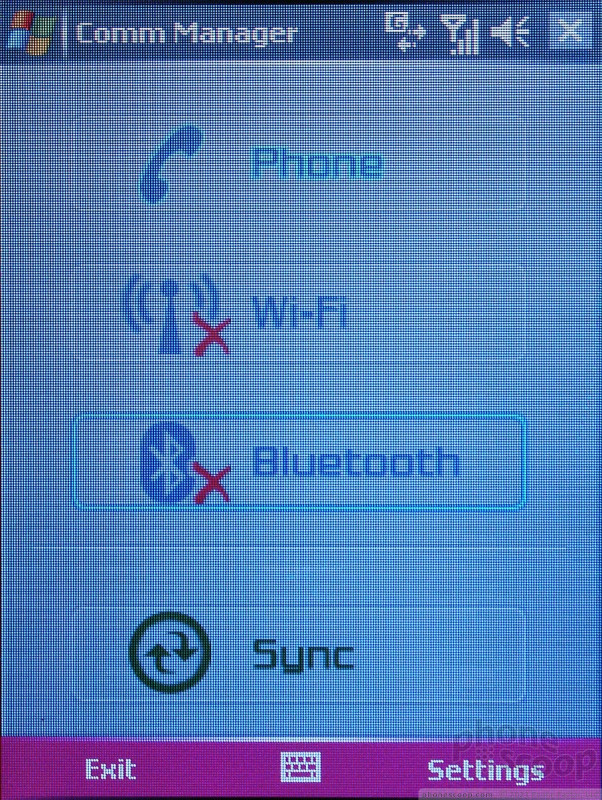 Sound
Even though sound just comes out of three tiny slots on each side of the phone, the speakers are impressively loud. We kept the phone at only 50% volume, which was plenty loud for system alerts and music playback. When used for music or video playback, the sound was clean at even the highest volume. The speakers have very little bass, which isn't a problem for ringtones but is disappointing when playing music or movies out loud. The ringer volume, which is adjusted separately, proved loud enough to be heard in most situations at 75% of maximum.
When using the earpiece, it was easy to hear the other side of a conversation in noisy environments. Sound is fairly loud and quite clear.
Battery Life
Windows Mobile phones are not typically known for their battery life, but the MDA does not deserve that bad reputation. Battery life was an impressive 3 days even with heavy use including a couple hours of Wi-Fi, and typically reached 4 days under normal conditions. It is easy to imagine the MDA making it through a long weekend without the charger, even if you're using it to check email and browse the web every so often.