HP Ups Pre To Version 3
Article Comments 32
Feb 9, 2011, 1:42 PM by Rich Brome @rbrome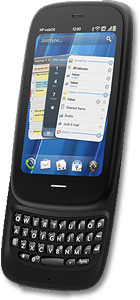 HP today announced the Pre 3, an update to the Pre series that brings a larger display, larger keyboard, and faster processor than previous Pre models. The display is 3.6-inch with 480 x 800 pixel resolution. The processor is a 1.4 GHz Snapdragon. Other features are similar, including 5-megapixel camera, HD video capture, Wi-Fi, GPS, Flash, and support for the TouchStone dock. It will be available this summer in both GSM/HSPA+ and CDMA EVDO versions. Pricing and carrier support hasn't been announced.
source: HP
Why?
Why not keep the OS and build better hardware? Don't they know that the drawback to the Pre is its design.
Carrier?
I wonder if it will be available to every carrier
REJECTED
garbage...my myTouch 4G would dog it 😎
I dunno, a Dual Core 1.4 sure beats the 1.0 Single you got in the MT4G...

...and task managing is a hundred times easier in the Pre 😛
Overkill much?
Seriously, a 1.4 GHz Processor in a phone!

I don't doubt this will be pushed, HP has spent a lot on buying up Palm and using webOS as a "quick boot" OS for their tablet systems. If they do it right, this system could actually be formidable.
Considering this phone won't be out until the summer, I'd expect to see processors like this on more phones. The keyboard looks much better too.
Isn't this just the Pre2?
What the hell is the difference between this and the Pre2 (which has still not been released as of Feb)?
Seriously? Lack of a front facing camera is supposed to be a selling point for the high end?
Why would you need a front-facing camera on a device with a 3.5-inch screen? For a Skype video call? No offense, but using a cell phone for that is a really stupid idea because one would have to hold the phone directly to their face to say something a...
(continues)
Please come to Sprint...
...and I wish it were released sooner than "Summer".
but it doesnt have two screens so sprint wont care
Sprint will be all over this phone like a hobo on a hot pocket. It will come to Sprint guaranteed.
WOW! CDMA/GSM combo?!?!
I want this phone. Hopefully it's a GSM/CDMA phone that can work for either Verizon or AT&T
and does it have a MicroSD slot?
More broken promises
One of there ceo's said devices ready for release in the next few weeks now it's Summer there saying for this. Ya upped Specs but same design. I dont think this is gonna be enough for them to thrive Love webOS but just saying..
I actually think this could be huge if they do it decently. What will sell is the TIGHT integration with the Tablet. That was the most impressive part about this whole thing. Integration done right.