Liveblog: HP's webOS Think Beyond Event
Article Comments
Feb 9, 2011, 1:02 PM by Eric M. Zeman
updated Feb 9, 2011, 1:17 PM
Updated: added picture gallery
Phone Scoop is live on site at HP's "Think Beyond" webOS event in San Francisco. Follow our liveblog to get the news as it breaks.
Feb 9, 2011, 2:43 PM: This concludes Phone Scoop's liveblog of the webOS event.
Feb 9, 2011, 2:34 PM: HP is hoping to build a large ecosystem of connected devices, which ranges from PCs, to tablets, to smartphones, printers, and cloud-based services. It believes this presents a great opportunity from developers and consumers alike.
Feb 9, 2011, 2:32 PM: Beats is going for the "studio" sound for mobile devices.
Feb 9, 2011, 2:32 PM: Beats' CEO Lovine is talking about his passion for making music sound good on the technology that we use to listen to it. Beats offers hardware and software to make the music/media experience better.
Feb 9, 2011, 2:26 PM: Rubinstein notes that the new slew of webOS products is the first to integrate beats by dr. dre technology, which purports to offer an improved audio experience on the devices.
Feb 9, 2011, 2:18 PM: Jacobs is using every buzzword and PR-speak phrase in the books.
Feb 9, 2011, 2:16 PM: HP says all three of the devices announced today run Qualcomm's SnapDragon processors/chips. They brought up Qualcomm's CEO, Paul Jacobs. He's clearly excited about the product and the opportunity tosell HP its chips.
Feb 9, 2011, 2:15 PM: HP didn't mention which type of 4G it will support.
Feb 9, 2011, 2:15 PM: Wi-Fi version of the TouchPad will be available in the U.S. and select markets this summer. 3G and 4G versions of the TOuchPad will be available later in the year.
Feb 9, 2011, 2:14 PM: He says that other tablets seems to be limited in how, when and what they can do at any given time. basically, he thinks the multitasking features of webOS are great.
Feb 9, 2011, 2:13 PM: Talking about customer experiences with beta hardware/software of the TouchPad. Appears that HP gave some of the TouchPads to DreamWorks' CEO. His opinion? HP enables the dream of DreamWorks to come alive every day. It seems to me like once again HP has hit it out of the park.
Feb 9, 2011, 2:11 PM: Content -- such as web pages -- can be synced live between devices with a touchstone-based technology called touch-to-share It works between the TouchPad, Pre3 and Veer. Very cool for sharing information instantly between devices.
Feb 9, 2011, 2:09 PM: Instant messaging sessions can be switched seamlessly to video chats. The software looks good.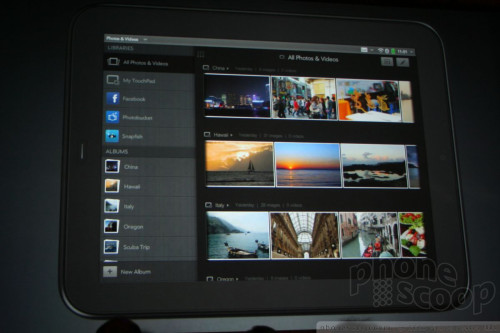 Feb 9, 2011, 2:06 PM: The TouchPad also supports reading, including digital magazines and Amazon Kindle books.
Feb 9, 2011, 2:05 PM: HP believes the new SDK for webOS -- especially for the TouchPad -- will really excite developers.
Feb 9, 2011, 2:04 PM: HP is showing off a flying game right now. 3D graphics look pretty good, as did the sensor-based gaming controls.
Feb 9, 2011, 2:03 PM: The photo app merges seamlessly with social networking. Photos can be posted directly to social networks, and users can view comments about their phones *from within the photo app itself*
Feb 9, 2011, 2:00 PM: They've added quick action support in the search bar, which lets users type something into the search bar, and then initiate an action (via plugin) that can do things such as start a Tweet, Email, or message.
Feb 9, 2011, 1:59 PM: The software QWERTY keyboard on the TouchPad can be made larger or smaller. (That's nice!)
Feb 9, 2011, 1:55 PM: Multitasking in webOS looks vastly superior to multitasking on iOS. Having the tablet-sized display makes a huge difference. You can really see why webOS was designed the way it was.
Feb 9, 2011, 1:53 PM: They offer a three-pane view (not dissimilar to the iPad's email app).
Feb 9, 2011, 1:53 PM: Notifications on the top bar let you see incoming messages, it has a unified inbox and also supports individual inboxes.
Feb 9, 2011, 1:52 PM: webOS scales really, really well on a tablet-sized screen. Having all that screen real estate to interact with the cards, stacks, and flicking gestures really looks spiffy.
Feb 9, 2011, 1:48 PM: HP shows how TouchPad and Pre3 talk to one another. Can make phone calls or send text messages from the TouchPad through the Pre2.
Feb 9, 2011, 1:46 PM: HP brought up an engineer to give us some walk-throughs of how the new devices perform.
Feb 9, 2011, 1:44 PM: Rubinstein calls the TouchPad "the most exciting device we've ever launched."
Feb 9, 2011, 1:44 PM: Ah, of course, accessories. Touchstone dock, bluetooth keyboard, touchstone docks also lets webOS devies share information wirelessly.
Feb 9, 2011, 1:43 PM: Rubinstein is talking up the browser, gaming, books/newspapoers, movies and tv shows, sync music, etc. Also supports QuickOffice and solid business features.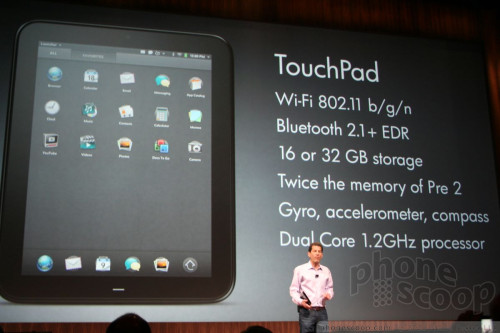 Feb 9, 2011, 1:42 PM: HP's Synergy will automatically sync your Palm webOS smartphone Synergy contacts to the TouchPad. Combines everything all at once. Makes everything easier to control.
Feb 9, 2011, 1:41 PM: Rubinstein is talking up how well its cards/webOS gesture user interface works perfectly for multitasking on the TouchPad.
Feb 9, 2011, 1:40 PM: TouchPad is "Screaming fast" says Rubinstein.
Feb 9, 2011, 1:40 PM: The TOuchPad is all about bringing the webOS experience to a larger form factor. 1.6 pounds, 13.7mm thick, 9.7-inch 1024 x 768 display, 1.3 megapixel webcam, video calling stereo speakers, Wi-Fi, Bluetooth 2.1+EDR, 16/32GB of storage. Huge onboard memory. Using a dual-core 1.2GHz processor from Qualcomm.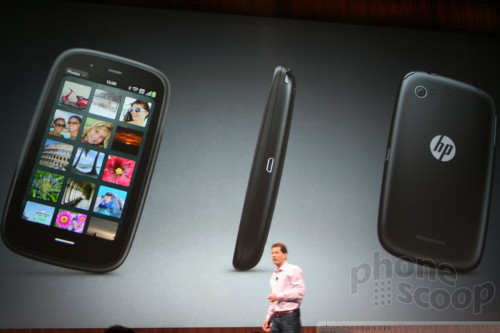 Feb 9, 2011, 1:38 PM: HP just announced the HP TouchPad.
Feb 9, 2011, 1:37 PM: Both phones have new touchstone feature, which shows slideshows, calendar, or apps designed for the touchstone, als context aware based on where they are docked.
Feb 9, 2011, 1:36 PM: Veer available this spring, Pre 3 available this summer. Both are touch stone compatible.
Feb 9, 2011, 1:36 PM: HP is also announcing the for professionals. HP announced the Pre 3. A thin portrait slider. Larger QWERTY keyboard, 3.6-inch 480 x 800 display, 5 megapixel camera camera, JD video capture. HSPA+ or EVDO, Wi0Fi, Bluetooth 2.1+EDR. 1.4GHz snapdragon processor.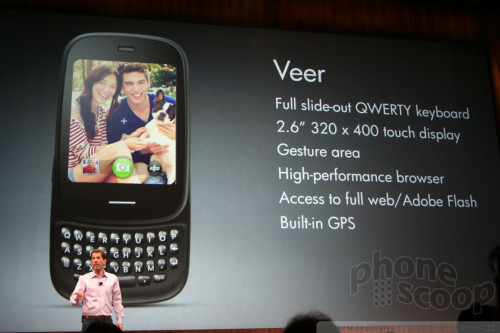 Feb 9, 2011, 1:33 PM: The veer has a full side-out QWERTY keyboard, 2.6-inch screen, gesture area, HSPA+, 8GB of storage, Bluetooth 2.1, 5 megapixel camera. Uses Snapdragon processor at 800MHz. Accelerometer, proximity, mobile hotspote.
Feb 9, 2011, 1:31 PM: HP announces the Palm Veer. a new, small, Pre-esque device.
Feb 9, 2011, 1:31 PM: Rubinstein is talking about how people want all the power of a smartphone, but in a tiny package and to do it well.
Feb 9, 2011, 1:30 PM: Latest release, webOS 2.1, takes the original features that set webOS apart (multitasking, touchstone) and takes them even further. Also adds 50 features, including VPN and Flash.
Feb 9, 2011, 1:29 PM: Rubinstein is talking up all the good press webOS has received from tech publications.
Feb 9, 2011, 1:28 PM: Ha, Bonnie Cha gets props from Rubinstein! As does Engadget's Josh Topolsky.
Feb 9, 2011, 1:28 PM: Jon is talking about how HP has the financial resources to take webOS to the future. First up is talking about webOS, which it started 5 yearts ago.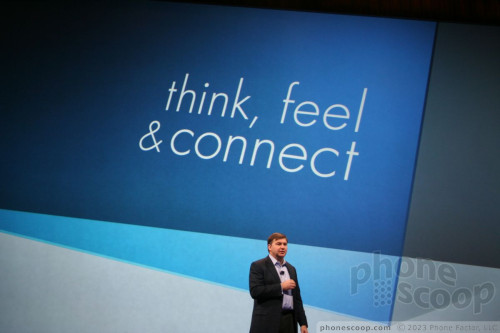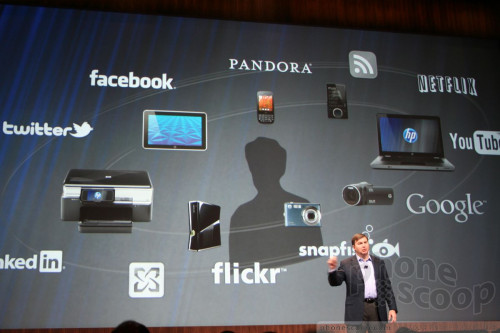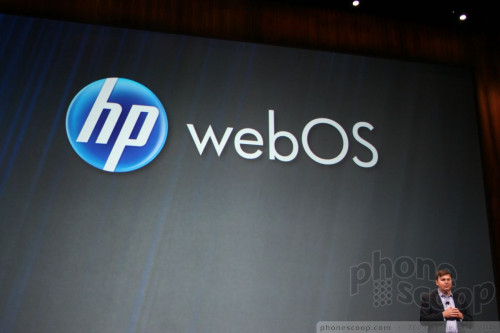 Feb 9, 2011, 1:26 PM: Palm's Jon Rubinstein has taken the stage to loud applause.
Feb 9, 2011, 1:25 PM: Wants webOS users to think, feel, and connect with their devices. They also want consumers and developers to be excited about what they can offer. HP believes that with webOS, it is making a contribution and showing progress in the making.
Feb 9, 2011, 1:24 PM: HP wants to merge all the myriad services and make them more easily manageable. giving immediate acces one one's "digital universe". Seamlessely connecting all that content with webOS devices.
Feb 9, 2011, 1:23 PM: Bradley is talking about today's mobile market. Noting how people carry more than one device, whether it is a phone, camera, media player, etc. Also talking about how they all pertain to the cloud.
Feb 9, 2011, 1:22 PM: Bradley is moving on to how webOS and how it has played a role in shaping Palm and how it will play a role as HP's future mobile platform.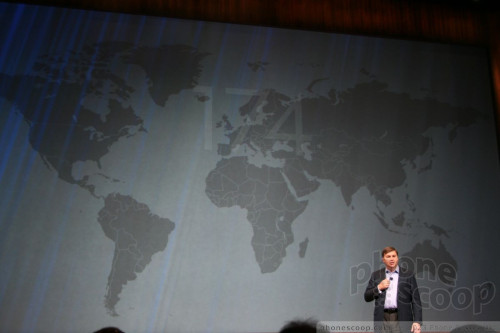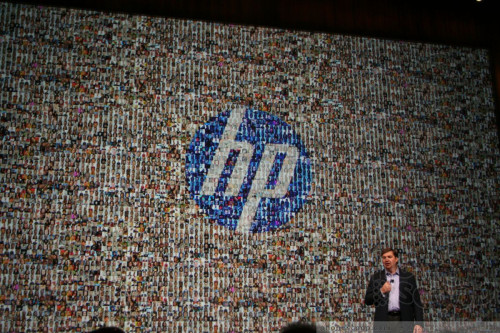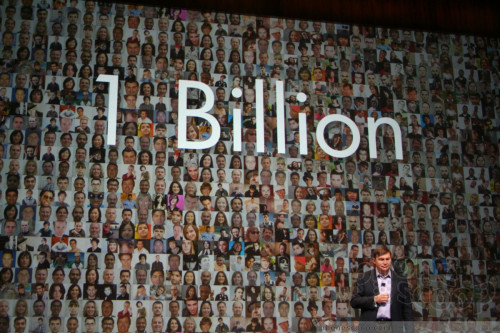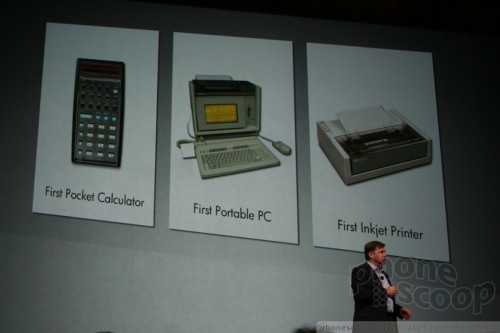 Feb 9, 2011, 1:19 PM: Bradley is talking about HP's success the past year with laptops and desktops. It is showing off its first calculator, portable PCs, inkjet printers, etc.
Feb 9, 2011, 1:17 PM: Todd Bradley, HP's EVP of personal systems has taken the stage. A nice warm round of applause greeted him. He's speaking first about remembering "firsts" in our lives.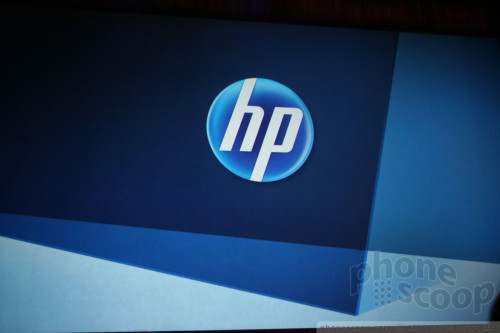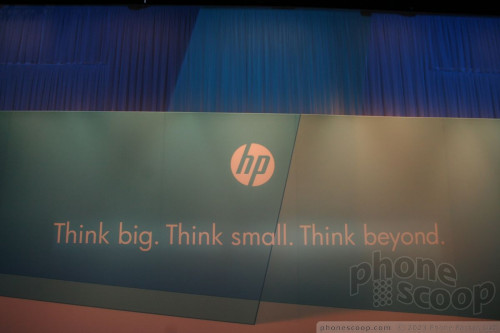 Feb 9, 2011, 1:11 PM: Standing room only here. The walls are lined with plenty of reporters who were unfortunate enough to miss the seats.
Feb 9, 2011, 1:10 PM: The music just changed up to an indie-sounding rock band. It feels like things might be kicking off in a few moments.
Feb 9, 2011, 1:08 PM: No sign of the Palm logo or brand at the HP webOS event in San Francisco.
Feb 9, 2011, 1:08 PM: There's dance music blaring in the venue, and HP's logo plastered on the arge screen.
Feb 9, 2011, 1:07 PM: The Herbst Pavilion is packed with journalists for today's event. Phone Scoop is literally shoulder to shoulder with other media outlets here to report on the show.
No messages