LG 'Slates' a Tablet for Spring Release on T-Mobile
Article Comments 3
Feb 2, 2011, 12:00 AM by Eric M. Zeman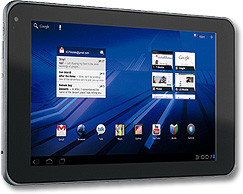 T-Mobile and LG today announced more details about the LG G Slate tablet device. The G Slate will run Android 3.0 Honeycomb and has an 8.9-inch HD display that is capable of playing 3D content. The Slate has two main cameras for capturing 1080p HD 3D video. The cameras also rate 5 megapixels and include an LED flash for taking pictures. A 2 megapixel user-facing camera adorns the front of the Slate. Other features include 720p HD video playback on the Slate and HDMI output for showing 1080p HD content on other devices. It has a 1GHz Nvidia Tegra 2 processor, as well as 32GB of built-in storage, gyroscope, accelerometer, adaptive lighting and 3D graphics for gaming. The Slate will support T-Mobile's HSPA+ network at 21Mbps and should be available later this Spring. Pricing wasn't disclosed.
source: T-Mobile
WIll this work as a phone if I use a BT device w/ it?
Hello, do you think I could use voice on this device? I know I will not be putting this up to my ear like a phone, but could I use a BT device with it?

Also, does anyone know it it will be the 21 Mbps HSPA+?
To your first question, it may support voice calls, but I don't think T-Mobile may sell any minutes with this device. However, that doesn't mean you don't have options (Google Voice?!)

To your second question, as it said in the article, it does sup...
(continues)