Samsung Gem Headed to Unknown CDMA Carrier
Article Comments 11
Jan 21, 2011, 10:47 AM by Eric M. Zeman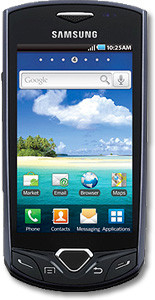 Samsung recently published some information on its web site about a previously unannounced handset, the SCH-i100 Gem. This bar-style Android device runs 2.1 Eclair has has a 3.2-inch touch display with WQVGA resolution and scratch/smudge protection. It supports 850/1900MHz CDMA spectrum and also includes GPS, Wi-Fi and Bluetooth. According to Samsung's site, the Gem has an 800MHz processor, a 3.2 megapixel camera, speakerphone, and support for microSD cards up to 16GB. The Gem has Swype software on board for easier typing on the touch screen and it includes Samsung's Social Hub social networking software. Pricing and availability for the Gem weren't provided, nor was a carrier named for the device.
I am guessing Boost Mobile/Sprint
Boost doesn't have an Android CDMA yet...just the IDEN one. Virgin Mobile already has an Android Samsung phone. So it's only a matter of time.

Fingers crossed! I have the Boost Blackberry Curve 8530 and love it, but an Android option would be sweet!
I don't know why but for some reason the look of the phone just says Sprint to me. It would be nice for Boost to get something like this though.
I'm going with Verizon, too. Boost Mobile tends to get rejects from Sprint, not new handsets, so a likelier Android for them will be the horrific Sanyo Zio.
My guess would be Verizon ...
Given that all of Verizon's Samsung model numbers begin with SCH- and all of Sprint's begin with SPH-.
Cellular South
This little "Gem" is headed to Cellular South.
I am guessing Sprint.
Sprint usually carries these types of Samsung devices.
The bands are right. It would be nice to see Metro get something like this.