Droid Bionic Features Dual-Core 1GHz Processor and LTE
Article Comments 7
Jan 5, 2011, 7:28 PM by Eric M. Zeman
updated Jan 5, 2011, 7:47 PM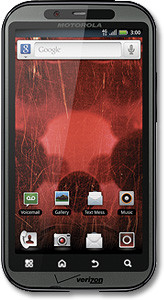 Motorola and Verizon Wireless today announced the Droid Bionic, a new slab-style Android device with dual-core 1GHz processors. The key feature of the Bionic is that it is the first Long Term Evolution handset announced for Verizon Wireless. It will have access to Verizon's LTE 4G network. It has a 4.3-inch qHD (quarter high definition) display and an 8 megapixel main camera and VGA user-facing secondary camera. It has an enhanced web browser with HTML5. It will will be available in the early second quarter of 2011.
Obviously the manufacturer would know best.
960 by 540 display
At least according to what I found. Image leaks also make it look like it doesn't have blur... with this be verizon's next "Dev" phone?

ATT kinda wiped the floor with everyone else today with Android announcements.
Yeah, I noticed that myself; I think their positioning themselves for the end of the crApple gravy train lol. Seriously it looks like they got some nice phones-too bad they have to run on that network.
The XOOM took the spotlight, not some phones for AT&T.
Oh, snap--
--my contract ends April 20th! Goodbye Blackberry Storm!