Sprint Launches HTC Evo Shift 4G and 3G/4G MiFi
Article Comments 9
Jan 4, 2011, 9:35 AM by Philip Berne
updated Jan 4, 2011, 9:36 AM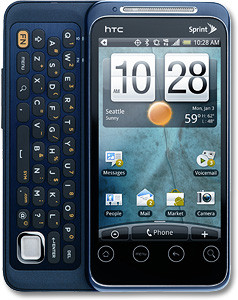 Sprint today launched two new devices to take advantage of its 4G WiMAX network. The HTC Evo Shift 4G is a QWERTY-slider with a 3.6-inch touchscreen, smaller than both the Evo 4G and Epic 4G devices already available. The Shift 4G runs Android 2.2 and HTC's Sense interface concept. It features a 5-megapixel camera, 720p video recording, and Sprint Mobile Hotspot support, allowing it to share a network connection with 8 other devices over Wi-Fi. The HTC Evo Shift 4G will be available on January 9 for $150 with a contract agreement. Sprint also announced the MiFi 3G/4G from Novatel Wireless. The new MiFi follows up on the original with added 4G support. The new MiFi also features a microSD card slot. Sprint says the MiFi 3G/4G should last up to 4 hours on one charge. The MiFi 3G/4G will be available on February 27 for $50 with a contract agreement.
Ugly color
Babyshit blue? Who picked that?
Actually, this looks more like Slate Blue.

In a sense the world population picked it. The major percentage of individuals pick blue as their favorite color. I think it is a smart move to initially offer this shade.

John B.
Bad color choice, I agree, but to me the biggest offense HTC committed here is skimping on the cameras. No front facing and only 5MP rear-facing? Fail.

I'll admit there are far worse things that can be skimped on, though. Build quality, screen reso...
(continues)
3G/4G MiFi: Now if they only offer it through Virgin Mobile
Now THAT would be exciting!
It would congest the 4g network with short timers..
Why would they? At this point, there is no sense in diluting the 4G branding on Sprint. I doubt Verizon will offer a prepaid LTE service anytime soon, either.