Vizio Officially Announces Android-Powered Via
Article Comments 7
Jan 2, 2011, 9:53 PM by Eric M. Zeman
updated Jan 3, 2011, 8:26 AM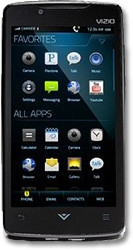 Vizio today announced its first foray into the cell phone market with the Via Android smartphone. The Via Phone has a 4-inch touch display. The stand-out feature of the Via is its integration with other Vizio products, such as its tablet and TVs. The company said that the Via Phone runs Via Plus, a new system meant to make media sharing seamless between various devices and form factors. For example, the phone has infrared built in so it can act as a TV remote control. Other features of the Via Phone include a 1GHz processor, 802.11n Wi-Fi, Bluetooth, GPS, microSD card slot and HDMI output with HD video playback. It also has a front-facing camera for video chats and a 5 megapixel rear camera for photos and HD video capture. The device will reach the U.S. via an unnamed carrier by summer 2011. Pricing wasn't revealed.
Visio and Messaging Features
Visio should embed its new 'Droid smartphone with killer apps, both to start immediately building the brand's reputation for mobile innovation, and to engage the consumer for help on critical features for the device's market penetration. Messaging will be the key driver of mobile social media, so Visio should partner with the new companies that are creating the most innovative and robust text/IM products and feature sets, including chatting with peeps you see but don't know; group chat; and cross-platform messaging.
Judging by they're quality of TVs, I am very excited to see this handset in person.
Hey this is cool! Vizio has always done right by me, great build quality on there tv's, hope that carries over to the cell phone.