CTIA 2006
Intro Part 1 Part 2 Part 3 Part 4 Comments 93
Kyocera's new phones at CTIA consist of three CDMA clamshell phones. What's new with these models are internal antennas. Like other manufacturers, Kyocera is also adding Bluetooth to more of its phones.
The flagship of this little series is the K822. Although it doesn't have EVDO high-speed data, it has just about every other feature one might want in an upper-mid-range phone. Highlights include a 1.3 megapixel camera, microSD memory card slot, and a great-looking 176 x 220 TFT main display. It also has advanced voice functions, including text-to-speech for listening to text messages.
AD article continues below...
However it's the music features that are especially advanced for a non-EVDO phone. They include stereo Bluetooth, FM radio, external media controls, and support for most major music formats, including Windows Media DRM files.
On the entry-level side is the K320 series, which includes the K322 and K323. The differences within the series are only styling, with the K322 sporting a vertical outer display and an oval d-pad, while the K323 has a horizontal outer display and more angular keypad design.
The K320 series replaces the Candid KX16. Most features are similar, including a VGA camera, STN main display, speakerphone, and voice dialing. Upgrades over the Candid primarily include a larger main display and an internal antenna. Carriers can also opt to offer Push-To-Talk and/or Bluetooth with phones this series.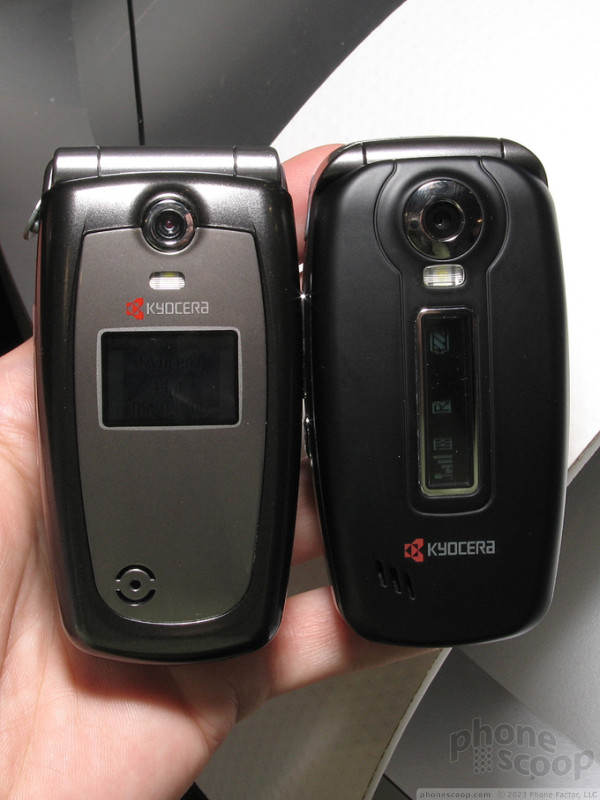 K342 vs. K322
The K340 series - which for now consists only of the K342 - is based on the same design as the K320, but steps up to a color outer display, a 1.3 megapixel camera, and a TFT display. Bluetooth is also standard on this series. The inside of the K342 is indistinguishable from the K323. *
Kyocera was also demonstrating a MediaFLO phone. MediaFLO is one of the new live-TV technologies being hyped this year. Its main competitor here in the States is DVB-H. Both are digital multi-cast technologies that operate in dedicated radio spectrum. MediaFLO operates in the 700 MHz band that used to be UHF TV channel 55. MediaFLO is backed by Qualcomm and Verizon has announced plans to launch it.
The Kyocera MediaFLO phone is an extremely slim and sleek clamshell phone with a huge 2.4-inch OLED main display. Although it bears resemblance to Kyocera's Japanese phones, this is a unique model that Kyocera may bring to the US. It's a very early prototype and there's no name for it yet, but with some luck we'll see it down the road.
The OLED display is interesting. While the first OLED prototypes several years ago blew the doors off any LCD at the time, in recent years TFT LCDs have improved in quality and dropped in price. That part of the reason companies like Sanyo have recently given up on OLED technology. Kyocera is still hard at work on it though, and hopes to commercialize it by the end of this year.
The Kyocera OLED display on the MediaFLO phone looked great, although it was hard to tell if it looked much better than a good TFT LCD display. The viewing angle was better, as expected, but for normal direct viewing, it's hard to tell. I wouldn't have known it was an OLED if I hadn't been told. That's not a bad thing; I'm just not sure how one is supposed to compare two display types that both fall into the "really great-looking" category. I suppose it's a nice problem to have.
Unfortunately the status of MediaFLO is currently in limbo due a dispute with the FCC over potential interference issues. It's possible the FCC will rule against Qualcomm, preventing the MediaFLO network from launching by the end of the year as planned.
* Updated April 7 to correct display spec.