Review: Nokia C3-01 Touch & Type
Form Basics Extras Wrap-Up Comments 3
Is It Your Type? Body The Three S's Touch
Dec 23, 2010, 5:26 PM by Eric M. Zeman @phonescooper
Nokia brings the power of touch to its Series 40 platform in the C3. The C3 takes what's familiar about Nokia and sprinkles it with a dash of newness.
AD article continues below...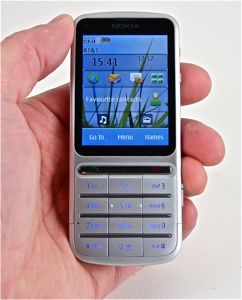 Nokia's C3-01 Touch and Type is a novel handset that brings a touch experience to Series 40 while keeping Nokia's bread-and-butter candybar hardware design. It's small, slim and offers (mostly) superb hardware features. But does a touch screen work with Nokia's Series 40, or does it get lost in translation?
Great Budget phone
I can see this phone doing a lot on prepaid. No need for data plans, just use wifi and save money. It has some premium features and yet is probably reasonably priced. I'm sure that if is offered by AT&T they will remove the wifi like they did with the C3-00 that they offered.
Just goes to show...
...why Nokia is the world's largest phone manufacturer. I am not into entry level phone's but this thing is loaded with mid-to-high-end features in a well constructed package at a very low price. WIFI, Touch screen, 5 megapixel camera, micro SD, micro USB, mail, applications, music. Add to that the praise of the build quality, call quality and great music player. It makes me wonder if I really need a smartphone at all.

Great job Nokia and let's hope AT&T or T-Mobile pick this phone up so that the average US consumer might have a chance to get a decent phone... assuming they don't mess it up with their AT&T/T-Mob proprietary apps & disabled features.
Great review--
--this phone is a brilliant piece of hardware. I can't wait to get my hands on one.