ZTE Peel for iPod Touch Lands in Sprint Stores Nov. 14
Article Comments 37
Nov 10, 2010, 9:22 AM by Eric M. Zeman @zeman_e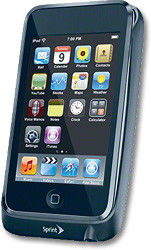 Sprint today announced that the ZTE Peel will be available for purchase starting November 14 for $80. The Peel is a custom-developed case for Apple's iPod Touch. It adds 3G radio capabilities to the iPod Touch, but stops short of providing cellular voice services. The Peel connects to Sprint's 3G data network and creates a Wi-Fi mobile hotspot, allowing the iPod Touch and one other device to access the Internet via Wi-Fi. The Peel is offered with a $30 monthly data plan good for up to 1GB of data. No contract is required. It is compatible with Windows and Apple computers, and offers up to 3 hours of battery life.
Ipod Touch Generations
I wonder if this will work with the 4th Gen ipod Touch since it has the rear camera. From the looks of the peel the rear camera may be covered becasue this is on the back of it. Anyone have any details if it will work or not?
Enough with the--
--'FAIL!' comments.

This thing isn't designed for voice. I kind of dig it, actually. Just add a texting app and boom, you can communicate but don't have to talk to anyone.
Agreed. Its like your back up txting buddy.
This isn't for power users (so stop complaining)
Obviously this isn't marketed for those of us using several gigs of data a month. This is obviously for that casual user that may use their iPod as and iPod and go on the internet once in a while. Think about it, if you need so much data use that you need more that 1GB, then you should be using a smartphone or a laptop of some sort. At the end of the day its an iPod not an iPhone, and should be treated as such; music player first, data second. I think this product is positioned perfectly for the right audience. If you want more, go buy a smartphone or tablet.
edit: "...use their iPod as an iPod..."
did i read that right?
3 hours of battery life?
Up to 3 hours of battery life so you might not even get that much. Meh.
AndroidRules said:
FAIL
Well, comes down to, just get an iphone, android device, wp7 device, webOS device if you so wish, if you want a smartphone.
If they increased the amount of data for the same price, and one...
(continues)
Someone at Sprint has fallen and bumped their head...
Contract or no contract, I can't see this thing selling for much more than $100 or so bucks without any subsidization. Asking someone to shell out $80 to get their Ipod on a mobile data network isn't a stretch...

BUT $30 A MONTH? For 1GB?

Sprint, please. For someone that dumped $100 on an Ipod Touch, why would they spend another $80 on giving it mobile data and an extra $30 a month when they can have a real Iphone for $0-$100 more and 2 Gigs a month for $25?

only 1gb pretty much disables your ability to take advantage of any streaming services like youtube or streaming radio. I guess Sprint envisions all of us Sprint customers carrying around an ipod touch are going to froth at the mouth for the chance to check our email on the...
(continues)
Jeff226 said:

BUT $30 A MONTH? For 1GB?


Yeah, let's see how many other options are a better deal:
1. On a smartphone with Verizon, $30/mo gives you unlimited data. Add $20 for a mobile hotspot for 2GB of wif...
(continues)
Just get the Virgin Mobile mi-fi device instead...
Instead of having a bulky growth on the back of the phone, and be limited to 1GB of data, get the credit card size Virgin Mobile mi-fi device, throw it in your pocket, and enjoy unlimited data for $40 a month that will work with ANY of your devices (iPad, iPod touch, laptop, etc.) And, oh by the way, have four other connections that you can share with your friends.

It's a no brainer!

The peel is a nice concept, but not a good deal!
I agree with you. $10 more for unlimited data and 4 more devices.
are we in 1996
where a gig could be considered something to stop the presses about? lets just go back to unlimited the way it was meant to be 😕
For an iPod, it may not be too bad.
this should b nice
sprint might pick up with then coming out with this phone but right now everyone seems to like the androids