Verizon Adds Samsung Continuum to Galaxy S Teaser Site
Article Comments 12
Nov 2, 2010, 10:22 AM by Eric M. Zeman @zeman_e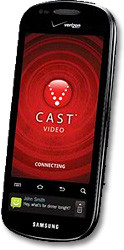 Verizon Wireless has published a web site advertising its line of Samsung Galaxy S devices. One of them is the unannounced Continuum. Based on the image published by Verizon, the Continuum is a slab-style touch phone with what appears to be two separate displays. Below the standard Android control keys, there is a slim, secondary display that shows a preview of an inbound SMS message. Verizon doesn't provide any specific details about the device, nor does it say when it will be available.
I smell LTE
Mmm 4G Galaxy S. DO WANT!
LTE phones aren't going to be announced until CES. Which takes place thee week of January 5th.
The Epic 4g is the only Galaxy S equiped with 4g and Sprint will have the only 4g phones for quite sometime. 😉 I dont think big red will be joining the party till feb or march of next year with 4g phones. 🙂 Better late than never. 😎
The first thing I thought...
When I saw it is that it looks like the same adverts that are in the android apps themselves have worked themselves to the phone.
banana phone?
Wow that phone is big, it looks like a surf board! 😲 It looks like it has the extended lip like the Droid X way to big. I thought it was going to be the same size as my Epic 4g with an extra screen that would be sweet! 😎