Nokia Unleashes New Phones for Americas
Article Comments
Sep 12, 2003, 10:17 AM by (staff)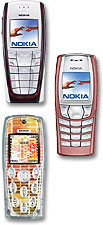 Nokia today announced three new phones for the Americas, one for each major technology: GSM, CDMA, and TDMA. All three models are based on Nokia's Series 40 platform, and feature color displays and small form factors.
6225: Tri-mode CDMA with VGA camera, infrared, FM radio, speakerphone, MMS, Java, and voice dialing.
6560: World's smallest color TDMA phone. Tri-mode, infrared, Java, xHTML broswer, speakerphone and voice dialing.
3200: Tri-band GSM camera phone with EDGE, FM radio, flashlight, and clear covers for custom cut-out paper inserts. Two versions: GSM 850/1800/1900 for Americas and GSM 900/1800/1900 for Europe and Asia.
All three models are expected to be available in the 4th quarter.
No messages