Nokia 6282 Launch
6282 N80 N70 Comments 12
Dec 2, 2005, 4:05 PM by Rich Brome @rbrome
Hands-on report from the launch of the Nokia 6282 in NYC. Plus new N80 and N70 pics and info.
Advertisements article continues below...
At an analysts' meeting in New York City yesterday, Nokia announced a pair of new 3G phones for WCDMA networks. One was the 6233, a compact and relatively basic bar-style phone for Europe and Asia. But since we focus on the U.S. market, we were far more interested in the 6282, a 3G slider phone specifically aimed at the Americas, including the U.S.
The 6282 has a solid feature set, including a QVGA display, Bluetooth, a miniSD memory card slot, and EDGE data for areas where WCDMA coverage is not yet available.
The 6282 is based closely on the previously-announced 6280. But while the 6280 supports WCDMA (UMTS) 2100 and GSM 900/1800/1900 for European and Asian networks, the 6282 supports WCDMA 1900 and GSM 850/1800/1900, for networks such as Cingular's.
There are a couple of other differences compared to the 6280, both of which are consistent with with Cingular's rumored 3G launch plans. First, the 6282 lacks a secondary, front-facing camera for 2-way video calling. That's fine, since Cingular's 3G network is not expected to support 2-way video calling, at least initially. While 2-way video calling is certainly a nifty feature, it hasn't been exceptionally popular on most 3G networks that have launched it elsewhere; it's just not very useful compared to other 3G services.
The 6282 also has a 1 megapixel camera, which is a slight step down compared to the 6280's 2 megapixel unit. That makes some sense when you consider that Cingular is also expected to launch the N80 around the same time as the 6282. The N80 and 6282 are both relatively high-end 3G slider phones, so having a 1 megapixel camera on the 6282 helps lower cost and further differentiate it from the N80. Shutterbugs will probably want the N80 anyway, which is expected to have one of the first 3 megapixel cameras on a U.S. phone.
The 6282 also sports some slightly different styling compared to the 6280. Specifically, the keys have a smoother, more rounded look. The 4-way direction pad looks flush with the rest of the keys, like it might be hard to feel by touch alone. But when I tried it, I had no problems with it. The main keys on the front are all more than large enough to avoid any risk of pressing the wrong one, and the outer edge of the direction pad is raised just enough that you can feel it with your finger. Those with very large fingers might find the center select key and the number keys a bit small, but they should be perfect for those with average hands.
The phone has a good slide mechanism with a spring assist so it "snaps" open and closed. It's not quite as solid-feeling or powerful as the one on the 8801, but it the quality seems fine.
The 6282 is quite lightweight for a 3G phone with the features it has. Unfortunately, that gives it a size-to-weight ratio that might make it feel "cheap" to some people. It's just a mental thing, though; all parts of the 6282 in fact feel quite high-quality.
One very impressive feature of the 6282 is the ability to capture VGA-resolution video. VGA is 640 x 480 pixels, which is as good or better than standard-definition television. Most camera phones can only record at QCIF resolution (176 x 144), and ones that can record at QVGA (320 x 240) or CIF (352 x 288) are considered good.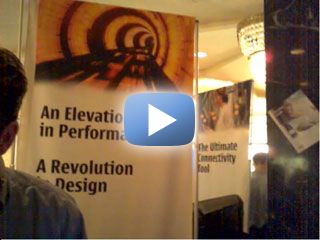 QuickTime format
File size: 2.6 MB
I tried the VGA video capture, and was impressed with its quality (check it out for yourself above). Unfortunately, the still photo quality left a lot to be desired, but of course it was a pre-release version, so it's possible the final version could be great.
What kind of time frame???
I like the look of the 6282 and the N80. I am anxious to upgrade, however, neither one of these phones looks like they will be available anytime soon.

Does anyone have any clue as to the time frame that these might be released? I am a legacy Blue customer with Cingular, so am hoping that one or both will be available thru the carrier. Anybody have a guestimate...January, first quarter, summertime?? Bueller....Bueller....Bueller?
we just got word from our managers call that it should be coming out the end of this month. barring any technical or inventory issues you should see it fairly soon!

xoxo
Video?
I can hear the audio for teh 6282 QT video but can get any visual? Just me or anyone else have this problem?
Is the 6282 coming to Cingular?
If so, when? And will Cingular be the one selling it?
That's the rumor.

Nokia said it is coming to the U.S. with a major carrier. Given that it is a special version with GSM 850 and WCDMA 1900, that can really only mean Cingular.
Yes, it is scheduled to be carried at Cingular.
Article
the article was quite good, but I did want to check something with you.....the link for the Close up shots of Resolution side-by-side on the N80 page didn't bring up any pics for me....not sure if it was a load problem or maybe something on your end
...the link for the Close up shots of Resolution side-by-side on the N80 page didn't bring up any pics for me....not sure if it was a load problem or maybe something on your end
Whoops! 🤭 Sorry about that!
It's fixed ...
(continues)
holding my breath
the 6282 and N80 both look too cool, i can't make up my mind (though i'll probably just choose whatever comes out first)

i don't see how they can market the n70 without a carrier. The N90 being sold at camera stores makes sense, and is a very interesting move from a marketing standpoint, but i don't see what angle they would play with the N70. Maybe they'll just sell it on their website?

Finally, how much are they saving by using a 1mp camera instead of 2? it will look better in cingular's product lineup - that's a poor reason but i guess that's the business. all i know is if were the 2mp camera like the 6280 i would not be debating the two phones (so i guess that marketing does work - sorry for the rant 🤭 )