AT&T Steps Into the LG Arena
Article Comments 7
Feb 19, 2010, 12:57 PM by Philip Berne
updated Feb 15, 2018, 7:33 PM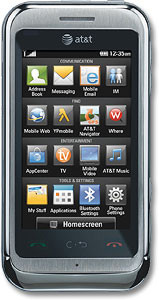 AT&T today announced the newest addition to its Mobile TV lineup, the LG Arena. The LG Arena isn't a new phone, having been launched a year ago, and LG has already replaced the device with a new flagship in the LG Mini, which Phone Scoop saw first hand at this year's Mobile World Congress in Barcelona. The LG Arena arrives on U.S. shores with a 3", WVGA touchscreen and 7.2Mbps HSPA networking. The phone uses LG's own S-Class interface. For imaging, the LG Arena gets a 5-megapixel camera with auto focus and features to upload pics to popular social networking sites. Most importantly, though, the phone will use AT&T's Mobile TV service. The LG Arena will be available online on February 26 and in stores on March 7. The phone will cost $199 with a contract agreement. AT&T's Mobile TV is currently priced at $9.99 per month, though new users will get a 7-day trial to take the broadcast video service for a test run. Mobile TV now offers content from more than two dozen providers and content partners, including all the major U.S. TV networks.
Mobile TV
Can new Smartphones all get mobile TV or just these types of phones?
Unfortunatly only the phones with the MobileTv chips. I wish it was more standard. Sure would be nice to have an Android smartphone with slideout keyboard and MobileTv built in.
Price Factor
a year-old phone at $200, who does AT$T think they're fooling? I promise you this phone will be half price in 3-6 months.
I agree, this would be have been a nice phone last spring or summer, but not now. And definitely not at $200!!!

I would sorta think different if it was like $79 or $50. Only saving grace is it uses media net, $15.00 or $10 with a family or unlimi...
(continues)
Well its good to see
a real replacement (non-keyboard) LG replacement for the Vu and its mobitv capabilities. also the s-class interface is different but user friendly and highly customizable similiar the cube on the behold 2. we will see how at&t locks it up and what impact it will have. but overal i may have to add this one to the collection