Sony Ericsson Intros HD-Capable Vivaz
Article Comments 10
Jan 21, 2010, 6:33 AM by Eric M. Zeman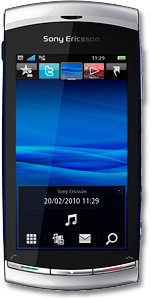 Today Sony Ericsson announced the Vivaz, a new entertainment device that will be available in the first quarter of this year. The Vivaz is the second device from Sony Ericsson to use its new design philosophy and is based on the Symbian S60 5th Edition platform. The Vivaz's primary feature is an 8.1 megapixel camera with face and smile detection, autofocus and flash. It can record video in 720p HD and has a dedicated video capture key. The Vivaz has a 3.2-inch, scratch-resistant touch display with 640 x 360 pixels in 16:9 aspect ratio. Other features include media player, FM radio, aGPS, Bluetooth, Wi-Fi and TV-out. It will be boxed with an 8GB microSD card and supports cards up to 16GB. All versions have quad-band GSM/EDGE radios and there is a HSPA 850/1900/2100 variant to support North American 3G frequencies.
Not too bad specs, but
the manufacturer is the problem 😉
I'm really sick of these all touch devices. No slide out keyboard. Well at least SE was considerate enough to include NAM 3G! ! !
Definitely.
What the F' there's no version for T-Mobile, datajack, and Wind?????
SE can shut down for good, you won't be remembered.
Hmmm... Why is it that 6 out of the 7 post on here are nothing but negative people? People need to lighten up on this site 😉