Motorola Confirms Worldwide MOTOROI Availability
Article Comments 8
Jan 19, 2010, 11:30 AM by Eric M. Zeman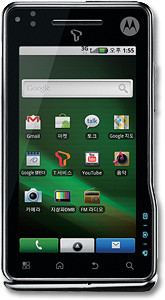 Today Motorola confirmed that the recently announced MOTOROI will be available in countries other than South Korea, where the device is launching. According to The Korea Herald, Rick Wolochatiuk, president and representative director of Motorola Korea, said that the MOTOROI would be available in the U.S., but Motorola's U.S. representatives wouldn't confirm that specific detail. Motorola spokesperson Juli Burda told Phone Scoop in an email, "In addition to Korea, MOTOROI is expected in other markets around the world and we have no additional news to share at this time." The MOTOROI runs Android 2.0 and has a 3.7-inch 480 x 854 pixel touch display. It also has an 8 megapixel camera with autofocus and flash. The MOTOROI can record video at 720p HD, and has an HDMI port to connect directly to HDTVs. Other features include a 3.5mm headset jack, Wi-Fi, GPS, Bluetooth, 32GB microSD support. It goes on sale in South Korea in early February.
Very, very nice! Now what about a keyboard?
I didn't see any mention of a keyboard. Other than that it seems like a very well specced device, even includes HDMI! It seems like all phones that have the 720p recording capability will have HDMI from here on out.
this is the Droid in non-keyboard form. (droid also includes in 720p, but doesn't have HDMI out)
So....
What is it, GSM, CDMA, etc? 😕
Whatever it is for Korea, it will probably be different for the rest of the world. They've technically only fully announced the Korean variant so far. When they make the other variants public, then we'll know.