LG Lotus and Rumor Get Touch-Screen Successors
Article Comments 4
Jan 7, 2010, 1:20 PM by Rich Brome @rbrome
updated Jan 7, 2010, 1:33 PM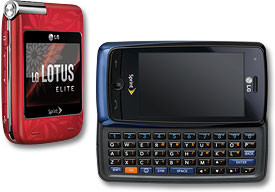 Sprint today announced the LG Lotus Elite and Rumor Touch. These updates to the popular Lotus and Rumor add large touch screens. The Lotus Elite sports dual 2.4-inch QVGA-resolution displays - the outer one supporting touch - and support for memory cards up to 32 GB. Other features are similar to the original Lotus, including One Click menu, 2-megapixel camera, and QWERTY keyboard. The Rumor Touch replaces a small display and numeric keypad of the Rumor with a large 3-inch WQVGA touch screen. Other features of the Rumor Touch include slide-out QWERTY keyboard, 2-megapixel camera, memory card slot, and EVDO data. The Lotus Elite will be available January 10 for $149.99 with two-year contract, before $50 rebate. The Rumor Touch will be available later this quarter; pricing was not announced.
Great phones, if you are a teen girl...
How about you announce some more Android phones Sprint? Market to the grown ups as well as the teeny bops!
These look good!
I like to see these type of phones, I actually prefer the more simple, text messaging based qwerty handsets! Good job Sprint.
uscc will carry the lotus in the next 2 months.