HTC Debuts BREW-Based Phone with Sense
Article Comments 3
Jan 7, 2010, 10:32 AM by Eric M. Zeman
updated Jan 7, 2010, 10:57 AM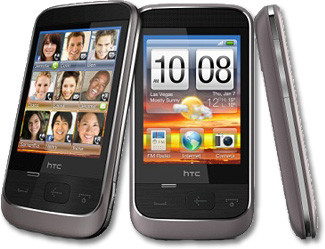 Today HTC announced a new phone that uses Qualcomm's BREW platform instead of Windows Mobile or Android. BREW is used by Verizon for a number of its feature phones and AT&T recently announced that it will begin to offer BREW-based phones. It is a lower-cost platform for mobile phones meant for the mass market. The Smart is a slab-style touch phone that features HTC's Sense user interface. Sense is a user interface overlay that HTC uses on both its Windows Mobile and Android devices. It provides a more intuitive way to interact with a phone. It runs on a 300MHz processor and has quad-band GSM/EDGE radios and 2100MHz 3G support. The touch screen measures 2.8 inches and has QVGA resolution. It also offers a 3 megapixel fixed focus camera with flash, Bluetooth 2.0 with A2DP, a 3.5mm headset jack and support for microSD cards. The Smart will go on sale later this spring in Europe and Asian markets.
This makes me sad...
I can see where the profit in it is... but I liked that HTC was a "smartphone" company.
I thought BREW was a programming language...
Isn't BREW a programming language, not an OS?
BREW is an API spec. REX is Q's OS that it uses on its chips. However, BREW might have been evolving to become more OS like.